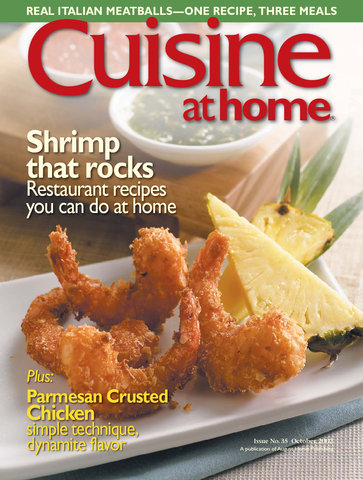 Subscribe Today!
Preview This Issue
Issue 35


October 2002
Online Extras
Recipes
Spice BBQ Chicken Wings
Makes: 10
Total Time: 60
Prepare:
Dissolve:
Add to Bag:
Whisk Together:
Prepare wings by first cutting off the tips (discard or save for stock). Dissolve boiling water, sugar, and salt in a 2-gallon resealable plastic bag. Add ice water to cool, then the wings. Seal bag and chill at least one hour, or up to 12 hours. Whisk together all sauce ingredients. When ready to prepare wings, preheat oven to 450° and line two baking sheets with double layers of parchment paper. Place sauce in a large saute pan and bring to a simmer over medium-high heat. Remove wings from brine, add them to the sauce, and simmer for 20 minutes, turning wings often to coat with sauce. Transfer chicken to prepared baking sheets (do not crowd the pans or wings will not brown as well) and roast for 10 minutes. Brush wings with some of the remaining sauce left in the saute pan, and roast 10 more minutes. Brush again with sauce and any accumulated pan juices; roast another 5 minutes. Remove from pans while hot or wings will stick.
Nutrition Info:
Per : cal; total fat ( sat); chol; sodium; carb; fiber; protein
Honey Grapefruit Sherbet
Makes: 8
Total Time: 120
Combine all ingredients, stirring until honey dissolves and yogurt is completely blended in (no lumps). Process mixture in ice cream maker according to manufacturer's directions until firm. Transfer sherbet to a freezer container, press a piece of waxed or parchment paper on top of the sherbet, and cover tightly with a lid. Freeze until firm and scoopable, at least 2 hours.
Nutrition Info:
Per : cal; total fat ( sat); chol; sodium; carb; fiber; protein
Mashed Potatoes and Root Vegetables
Makes: 10
Total Time: 15
Prepare:
Warm:
Mash Potatoes and Vegetables; Gradually Stir in Milk Mixture.
To prepare, first cut potatoes in chunks and dice sweet potato, rutabaga, and turnip. Place the potatoes, vegetables, and salt in a large pot and add enough cold water to cover by 1/2". Now, cover the pot and bring to a boil over high heat. Reduce heat and simmer until vegetables are soft, but not falling apart, 10–12 minutes. Test for doneness with a fork. Warm the cream, milk, butter, nutmeg, and pepper in a small saucepan while the potatoes cook. Drain vegetables then return them to the saucepan. To evaporate excess water, increase heat to high and stir constantly until they begin to stick slightly (but not scorch!), 1–2 minutes. It's okay if they start falling apart. Mash the vegetables using a potato ricer, electric mixer, food mill, or by hand with a masher. Once mashed, gradually stir in the warm milk mixture until desired consistency is reached. Taste for seasoning. Serve hot.
Nutrition Info:
Per : 131 cal; 4g total fat ( sat); chol; 366mg sodium; 23g carb; 0g fiber; 0g protein
Table of Contents
Departments
4 TIPS & TECHNIQUES
6 A GUIDE TO BUYING SHRIMP
Clear up shrimp mystique. All you need to know to buy the right shrimp.
12 CRUSTING CHICKEN
Crisp, golden, flavorful -- good crusted chicken is an art. We make it easy.
18 HONEY
Honey is one of nature's finest products. Take a peek into its fascinating world.
26 PEELERS
We tested 38 to bring you the best 8. You won't go wrong with any of them.
28 DEBORAH MADISON -- FARMER'S MARKET VEGETABLES
Deborah isn't a vegetarian. She just explores the best way to celebrate the goodness in fresh vegetables.
38 THE PERFECT BREAKFAST
Simple, fast, flavorful, /and/ colorful. This breakfast is the perfect way to start any special (or ordinary) day.
42 QUESTIONS & ANSWERS
44 MEATBALL SUBS
You won't stop eating these easy-to-make subs.
Feature
8 SHRIMP & GRITS
A Southern tradition that can grace anyone's dinner table. Grits are hip now.
10 COCONUT SHRIMP
Wildly popular and now it's easy. Learn the secrets to perfect Coconut Shrimp.
14 PARMESAN CRUSTED CHICKEN WITH SAGE-BUTTER SAUCE
Say "no" to bland chicken! This Parmesan crust has flavor written all over it.
16 PECAN CRUSTED CHICKEN SALAD WITH HONEY-MUSTARD DRESSING
Plain chicken breasts make a statement with this restaurant-quality salad.
19 HONEY-GRANOLA COOKIES
Big, chewy, and sweet, these cookies hit the spot.
20 HONEY-LIME CHICKEN WINGS
Everybody digs chicken wings. But you'll love these no-mess wings more!
21 HONEY-GRAPEFRUIT SORBET
Think of this sorbet when you need something just /a little/ sweet after dinner.
22 MAKING GREAT MEATBALLS
Everybody has a recipe, but this one is juicy and loaded with spicy flavor.
24 SAUCY MEATBALLS WITH PASTA
A classic dish that's good year-round -- homemade meatballs in savory sauce.
25 ITALIAN WEDDING SOUP
Unbelievably quick -- and amazingly good.
32 PEACH BERRY COBBLER
The last of summer's favorite fruits come together in this refined cobbler.
34 NECTARINE PLUM CRISP
Homey as it is, you'll gladly serve this crisp to guests.
36 PEAR BLACKBERRY BUCKLE
Even if you don't know what a buckle is, you'll love this simple cake.