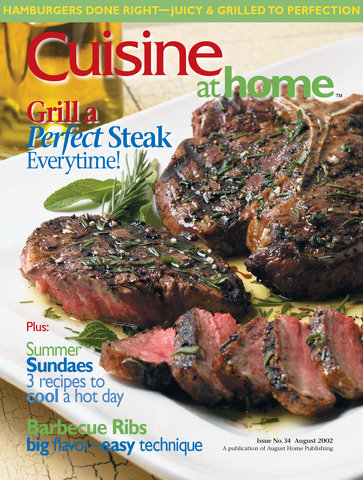 Subscribe Today!
Preview This Issue
Issue 34


August 2002
Online Extras
Recipes
Mustard Sauce
Makes: 2 cups
Total Time: 30
Cook over Medium-low Heat:
Cook all ingredients over medium-low heat for a least 30 minutes.
Nutrition Info:
Per : cal; total fat ( sat); chol; sodium; carb; fiber; protein
Corn Cakes
Makes: 8
Total Time:
Roast and Prepare:
Cut:
Combine:
Mix with Dry Ingredients:
Let Batter Rest 30 Minutes.
Saute Cakes in:
Roast or grill sweet corn and red pepper until both are blackened. Slice corn from the cobs to measure 1 cup. You can use frozen corn. Sweat roasted peppers in plastic bag for 10 minutes. Then peel away the charred skin, without washing. Remove veins and seeds. Dice. Cut jalapeño peppers into quarters. Remove stem, seeds, and veins. Mince the jalapeño quarters to measure at least 2 tablespoons. Combine dry ingredients in bowl. In another bowl, combine milks, egg yolks, melted butter. Mix milk mixture with dry ingredients. Add corn, chiles, peppers. Let the batter rest for 30 minutes, heat oil in skillet. Pour 1/3 cup of batter to form each cake. Saute until lightly browned. Flip each corn cake and saute other side.
Nutrition Info:
Per None: 161 cal; 6g total fat ( sat); chol; 417mg sodium; 23g carb; 0g fiber; 0g protein
Vanilla Ice Cream
Makes: 8
Total Time:
Beat Together:
Combine Milk Mix and Heat:
Beat egg yolks and sugar with an electric mixer for 2 minutes. The mixture will lighten in color to a pale yellow. Set aside. In saucepan, combine milk mixture ingredients; add seeds and pod of vanilla bean, to mixture. Over medium heat, bring milk mixture to 175°, stirring often. Use a thermometer to gauge the temperature. Combine when the milk mixture has reached 175°, temper the egg yolk mixture by whisking in 1/2 cup of the hot milk mix. Pour the tempered yolk mixture back into the remaining hot milk mix. Whisk well to evenly distribute yolk mixture. Bring custard to 180° over medium heat, stirring frequently. Lower heat and continue stirring, keeping temperature 180–190°. Stir for 5–7 minutes, checking temp. often. It's finished when a finger line is left on the back of the spoon when swiped. Strain custard into a bowl; discard vanilla pod. Cool 1 hour at room temp. Cover, touching plastic wrap to custard surface. Chill 4 hours or overnight. Custard must be 40° or lower to set up. Stir mix. Follow manufacturer's instructions for churning. When finished, it will be soft and fluffy, like soft-serve. Eat it now, freeze in canister 30 minutes, or allow to ripen. Ice cream can be scooped after 24–48 hours. But it tastes just as good for another week. It won't get icy or lose flavor. *Note: Split bean lengthwise and scrape out seeds.
Nutrition Info:
Per None: 319 cal; 24g total fat ( sat); chol; 57mg sodium; 23g carb; 0g fiber; 0g protein
Table of Contents
Departments
4 TIPS & TECHNIQUES
6 THE ART OF THE HAMBURGER
Yes, there is a way to make a better burger. And think outside the box -- pork and turkey make great burgers.
12 THE SECRET TO EASY GRILLED RIBS
Forget the long process of smoking for ribs. The oven and grill is all you need.
18 SWEET CORN
What to look for when you want the very best corn.
26 SALAD SPINNERS
The right salad spinner can make a difference. Find out which ones tested best.
28 STEVEN RAICHLEN -- GRILLING THE PERFECT STEAK
Steven explains his 10 simple steps to grilling great steaks.
38 EASY STIR-FRY DINNER
Simple, fast, flavorful -- this dinner will be a hit with family or company.
42 QUESTIONS & ANSWERS
44 BABY BURGERS
A simple idea that your whole family will love.
Feature
9 TURKEY BURGERS
Moist turkey may sound like an oxymoron. But done right, this burger can go up against beef any day.
10 PORK BURGERS
If you grill just one burger this summer, make it a pork burger. Hog heaven.
11 EASY BURGER TOPPINGS
The usual ketchup and mustard /almost/ take a back seat to these toppings.
14 ASIAN LIME RIBS
All ribs should be this lucky. Unique flavors that blend together perfectly.
16 RUB AND SAUCE OPTIONS FOR RIBS
Traditional rub and sauces for easy grilled ribs.
19 SUMMERY CORN SOUP
A hearty vegetarian soup with plenty of body. The secret is in the cobs!
20 FRESH CREAMED CORN
Everybody's favorite -- creamed corn with over-the-top flavor.
21 CORN STUFFED TOMATOES
Served warm, this tomato is surprisingly refreshing. It is the perfect summer side.
22 SALAD DRESSINGS REVIVED
We all have our favorites. Here are four classics that are so good, you'll never buy them bottled again.
34 COOL ICE CREAM SUNDAES
Tame any summer day by enjoying one of these three cooling sundaes.