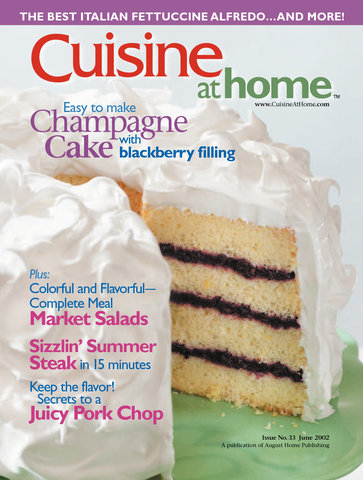 Subscribe Today!
Preview This Issue
Issue 33


June 2002
Online Extras
Recipes
Pineapple Ice Cream
Makes: 10
Total Time: 25
Whisk Together:
Heat:
Stir into Cream Mixture:
Whisk together egg yolks and sugar. Heat cream and buttermilk. Bring to a simmer. Gradually whisk egg mixture into hot cream. Reduce heat. Cook for 5–7 minutes until thick. Chill. Stir puree into chilled custard. Freeze 24 hours.
Nutrition Info:
Per None: 277 cal; 20g total fat ( sat); chol; 58mg sodium; 23g carb; 0g fiber; 0g protein
Basil pesto
Makes: 3/4 cup
Total Time:
Blend in a Food Processor:
Blend all ingredients in a food processor fitted with a steel blade. Use immediately or transfer to a container and store, covered, with plastic pressed on the surface to prevent darkening.
Nutrition Info:
Per : cal; total fat ( sat); chol; sodium; carb; fiber; protein
Table of Contents
Departments
4 TIPS & TECHNIQUES
6 ROASTED CHICKEN
A method for roasting chicken that's so simple, you may think something is missing.
16 JUICY PORK CHOPS EVERY TIME
Get juicy pork chops every time with the right brine and cooking method.
22 LIDIA MATTICCHIO BASTIANICH -- FETTUCCINI ALFREDO
She is everything you would expect from an Italian cook, and her Alfredo is proof.
26 ALFREDO ADD INS
Alfredo is an Italian standard. Add a few simple ingredients to create your own classics.
28 CAN OPENERS
We tested a bevy of openers to find the best. See which ones open your eyes.
30 BAKED POTATOES
A perfect baked potato is a lot simpler than you think.
38 FIESTA SUMMER GRILL
Three recipes to make a /fast/, complete dinner that's good enough for company.
42 QUESTIONS & ANSWERS
44 SUMMER NIGHT DINNER
A simple dinner for a lazy summer evening.
Feature
8 ROASTED CHICKEN WITH PAN GRAVY
Roasted chicken without gravy? No way! This stuff is nectar of the gods.
10 THE ULTIMATE CHICKEN SANDWICH
You'll be hard-pressed to find a chicken sandwich this good. Try it.
12 MARKET SALADS
There's nothing ordinary about these salads. So good and good-looking. Serve them as a main course.
18 GRILLED PORK CHOPS
A sweet, spicy glaze joins creamy mustard greens for a perfect pork chop dinner.
20 PAN ROASTED PORK CHOPS WITH BOURBON SAUCE
Sauteing and roasting combine for a juicy chop. Bourbon makes the sauce.
31 BAKED POTATO SOUP
A simple potato soup garnished with all of your favorite toppings.
32 STUFFED BAKED POTATOES WITH THREE VARIATIONS
With a new look and fresh flavors, this popular side dish is ready for your table.
34 CHAMPAGNE CHIFFON CAKE WITH BLACKBERRY FILLING AND 7-MINUTE ICING
A mammoth cake with blackberries and fluffy icing makes a statement -- but wait until you taste it!