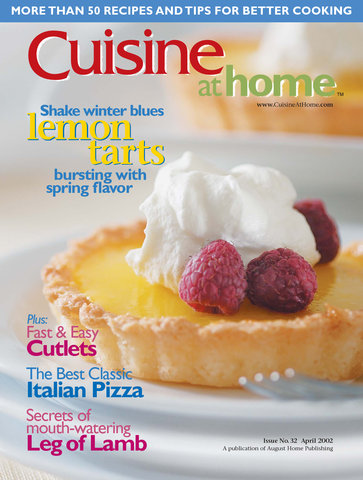 Subscribe Today!
Preview This Issue
Issue 32


April 2002
Online Extras
Recipes
Preserved Lemons
Makes:
Total Time: 8640
Combine:
After Day 6, Add:
Combine lemons and salt. Pack salted lemons in a clean glass jar. Cover with plastic wrap, close lid, and let stand at room temperature. After 24 hours, press lemons with metal spoon to release more juice. Shake jar to help dissolve salt. Press lemons and shake jar once a day. After 3 days, they will have compressed to half their size. After 6 days, add enough olive oil to cover. Cure lemons in refrigerator for 1 month before using.
Nutrition Info:
Per None: cal; total fat ( sat); chol; sodium; carb; fiber; protein
Sauteed Spinach
Makes: 4
Total Time: 15
Wilt; Press Dry:
Saute in 2 T. Olive Oil:
Add and Saute:
Before Serving, Drizzle with:
Bring a large pot of water to boil over high heat. Wilt spinach in boiling water. Add it all at once, stir, and drain immediately in a colander—do not let spinach sit in the water. Press as much liquid from it as possible, forming it into a disk. To saute, heat oil in a large saute pan over med.-high heat. Add garlic and pepper flakes; saute until garlic turns golden, about 1 minute. Stir constantly. Add the disk of spinach and break it up with a wooden spoon, stirring to coat with oil and garlic. Cook just until heated through, about 1 min. Season with salt and pepper, then transfer spinach to a serving platter. Before serving, drizzle spinach with balsamic vinegar.
Nutrition Info:
Per : 97 cal; 7g total fat ( sat); chol; 96mg sodium; 6g carb; 0g fiber; 0g protein
Mustard Sauce
Makes: 1 1/2 cups
Total Time:
Saute in pan drippings:
Stir in:
Add; Reduce:
Add and Simmer:
Strain; Whisk In:
Season With:
Saute shallots in the same pan the lamb was roasted in over medium heat. Cook until shallots are translucent. Stir in the garlic and tomato paste. Stir constantly for a few minutes or until mixture turns deep maroon. Add the red wine and bring to a boil over medium-high. Boil until wine has nearly evaporated. Add the stock, mustard, and thyme. Bring to a boil and again reduce my half. Strain the sauce and return it to the pan; discard solids. Whisk in the butter. Season to taste with salt and pepper.
Nutrition Info:
Per : cal; total fat ( sat); chol; sodium; carb; fiber; protein
Table of Contents
Departments
4 TIPS & TECHNIQUES
6 PERFECT CUTLETS
There's more to cutlets than what meets the eye. Learn the steps to golden, juicy meat every time.
12 ROASTED LEG OF LAMB
The right cut and proper technique equal one terrific roasted leg of lamb.
18 PAMELA SHELDON JOHNS -- PIZZA PERFECTED
A little bit of Italy from your kitchen. Pamela Sheldon Johns shows you how to make the best pizza crust.
22 PIZZA TOPPINGS
Forget pepperoni. These four original /Cuisine/ pizza toppings are made just for you.
30 LENTILS
Lentils should get more credit. Here's the story of this healthful legume.
34 KITCHEN SHEARS
We tested plenty of shears to find the best. See which ones made the cut.
40 ASPARAGUS
These four quick recipes give you four good reasons to eat more vegetables.
42 QUESTIONS AND ANSWERS
44 GYRO TOSTADAS
Fusion at its best -- a great way to use left over lamb.
Feature
8 CHICKEN PICCATA
An easy classic dish. Plenty of fresh lemon makes it refreshingly flavorful.
10 PORK CUTLET JAPANESE STYLE
Surprisingly simple and amazingly good -- a crispy coating is the key.
14 ROASTED LAMB WITH BRAISED WHITE BEANS
White beans cook under the roasting lamb for an extra-flavorful side dish.
17 CHARDONNAY SAUCE
A versatile sauce for lamb as well as other roasted meats or grilled fish.
24 CHICKEN WITH PRESERVED LEMONS
This simple, exotic-tasting stew is just the place to use those preserved lemons you made from Issue 31.
27 COUSCOUS DUMPLINGS
Familiar yet unique, these dumplings are great with preserved lemon chicken.
28 ANGEL HAIR PASTA WITH PRESERVED LEMONS
Talk about versatile -- these pasta dishes put preserved lemons to good use.
31 SLOPPY JOE LENTILS
Meatless may not be your thing, but these lentil burgers are worth trying.
32 LENTIL TABBOULEH
Spring is the time for more salads -- you'll want ot add this one to your repertoire!
33 CURRY-LENTIL SOUP
How does this easy soup taste so rich? A little cream and a few cool garnishes.
36 LEMON TART
Smooth lemon curd offset by buttery almond crust -- darn close to perfection.
39 LEMON TARTLETS WITH COCONUT CRUSTS
Little in size but big in flavor and texture. Spring just got here.