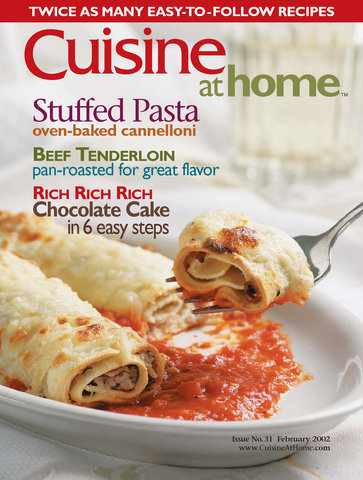 Subscribe Today!
Preview This Issue
Issue 31


February 2002
Online Extras
Recipes
Simple Marinara Sauce
Makes: 16
Total Time: 20
Saute in 1/4 Cup Olive Oil:
Add:
Stir in and Simmer:
Process; Add:
Saute onion in oil until softened. Add garlic; cook 1 minute. Stir in tomatoes; simmer 10 minutes. Process with a hand blender until sauce is smooth and slightly chunky. Finish with basil and salt to taste.
Nutrition Info:
Per : cal; total fat ( sat); chol; sodium; carb; fiber; protein
Champagne-Butter Sauce
Makes:
Total Time: 15
Saute in 1 T. Unsalted Butter:
Add and Reduce:
Stir in:
Whisk in 1 T. at a Time:
Strain Sauce; Stir in:
Saute shallots in a small saucepan over medium heat, in 1 T. butter until soft (do not brown). Add champagne, broth, and lemon juice; simmer until reduced by half, about 5 min. Reduce heat to medium-low. Stir in heavy cream. Whisk in cold butter by tablespoons, stirring constantly. Do not add more until the previous piece has melted completely. Strain the sauce through a fine mesh strainer. Stir in the chopped chives and salt to taste. Serve immediately, or remove from heat and hold, as shown below.
Nutrition Info:
Per None: cal; total fat ( sat); chol; sodium; carb; fiber; protein
Table of Contents
Departments
4 TIPS & TECHNIQUES
6 FRESH PASTA
Homemade pasta is as much fun to make as it is good to eat.
14 SALT ENCRUSTED FISH
An ancient technique that ensures moist and flavorful fish every time.
22 SPINACH
Buy it, clean it, store it and cook it. All kinds of helpful hints about fresh spinach.
26 PAN ROASTED BEEF TENDERLOIN
The best way to cook this tender cut of beef -- pan searing and high heat roasting.
32 CHEESE GRATERS
We tested 24 graters to find just the right one for your kitchen.
34 NICK MALGIERI ON CHOOSING CHOCOLATE
Well-known pastry chef Nick Malgieri talks chocolate. This is sweet information.
40 POTATO SIDES
Four quick and easy potato side dishes that can fit into most any dinner menu.
42 QUESTIONS AND ANSWERS
44 CHOCOLATE TRUFFLES
A sure and simple way to fill your Valentine's heart with contentment.
Feature
9 CANNELLONI
Simple fillings and thin pasta make this classic cannelloni amazingly good.
12 THREE MUSHROOM RAGÙ WITH PAPPARDELLE
A quick 20 minutes makes this hearty mushroom ragù warm up the coldest winter night.
18 VINAIGRETTES FOR SALMON
Tasty and easy solutions that are made to go with rich salmon. These two vinaigrettes are the ticket.
20 PACKETS WITH FISH AND VEGETABLES
A great way to cook fish without the mess or smell. Packing in salt guarantees great results every time.
23 SPINACH SOUP
Spinach never tasted so good! Lemon zest and almonds add the twist.
24 SAUTEED SPINACH
A quick blanch and high heat saute make spinach a snap to prepare.
25 ADDING ON/SPINACH
Two extra recipes to make these sides into dinners.
28 BEEF TENDERLOIN WITH STROGANOFF SAUCE
A simple brown sauce goes in two directions -- both are loaded with flavor.
30 BEEF TENDERLOIN WITH BARLEY RISOTTO
Tenderloin needs a hearty side dish like this. It's the perfect complement.
35 FLOURLESS CHOCOLATE CAKE
What a way to end a meal. It's the richest chocolate dessert we've ever had!
38 PRESERVED LEMONS
Make these lemons now for the great recipes to follow in our next issue.