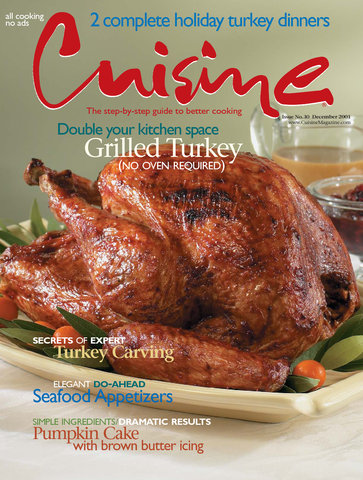 Subscribe Today!
Preview This Issue
Issue 30


December 2001
Table of Contents
Departments
4 TIPS & TECHNIQUES
10 GRILLING -- GRILLED TURKEY WITH CRANBERRY GLAZE
Glazed and perfectly grilled. It's worth the effort for the looks and flavor. But even better, it frees up precious oven space.
15 SIMPLE CARVING -- CARVING TURKEY
Eight easy steps to carving (not butchering) the holiday turkey. Don't set foot in the dining room without them.
28 JANE BUTEL'S SOUTHWESTERN TURKEY DINNER
Southwestern twists on tradition -- turkey, blue cornbread stuffing, sweet potatoes, and cranberries laced with hints of New Mexico.
40 QUESTIONS AND ANSWERS
42 WHAT'S HAPPENING IN FOOD
44 PISTACHIO BRITTLE
Simple and sparkling. The emerald-look of pistachio brittle tops off an already stunning pumpkin cake.
Feature
6 CRAB-STUFFED SHRIMP
A showy, yet simple appetizer ideal for holiday entertaining. Need I mention that they can be made ahead?
8 WRAPPED SCALLOPS WITH MAPLE CREAM
The classic bacon and scallop combination is updated with maple cream and apple.
18 TURKEY SIDE DISHES: BRUSSELS SPROUTS
Don't turn up your nose yet. These simply roasted brussels sprouts take on new life.
20 TURKEY SIDE DISHES: NATURAL GRAVY
Simple beginnings result in an outstanding turkey gravy -- a holiday must-have.
22 TURKEY SIDE DISHES: LEEK BREAD PUDDING
Old-fashioned dressing flavor with a new-fangled look.
24 HOLIDAY COOKIES
One dough, two spectacular holiday cookies. You /have to/ put rugelach and "cub" claws on your baking list this year.
36 PUMPKIN CAKE WITH PEAR FILLING AND BROWN BUTTER ICING
Want to break from tradition this year? Pumpkin cake with pear filling and brown butter icing is a sweet way to do it.