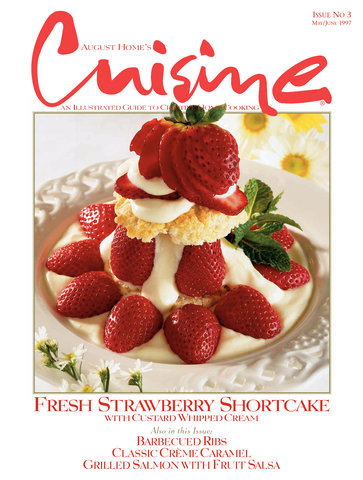 Subscribe Today!
Preview This Issue
Issue 3


June 1997
Table of Contents
Departments
4 TIPS AND TECHNIQUES
18 CHOOSE YOUR GRILL
20 COLE SLAW
No more watery cabbage. This custard-like sauce keeps the flavor where it should be -- on the slaw.
31 NOTES FROM THE TEST KITCHEN
32 QUESTIONS & ANSWERS
41 WHAT'S HAPPENING IN FOOD
42 STRAWBERRY SHORTCAKE
An architectural masterpiece of good taste!
44 GARNISHING A BLACKBERRY SHORTCAKE
Feature
6 GRILLED BBQ RIBS
You can get tender, great tasting ribs on your gas grill. The secret's in the temperature and timing.
11 THE BARBECUE TRAIL
Follow the Barbecue Trail for great eating in 10 of the best cities for BBQ.
14 PIZZA ON THE GRILL
What better combination than grilling and pizza. The grill brings together flavor and friends.
24 BBQ SAUCES
Regional sauces that'll enhance any barbecue. Don't be surprised if the vinegar sauce is your favorite.
26 GRILLED SALMON WITH FRUIT SALSA
Start grilling fish at home. Salmon is one of the best looking and tasting to start with.
34 SALADS AND THEIR GREENS
A salad used to be an iceberg wedge. Learn about salads and their greens.
38 3 VINAIGRETTES
Three tasty and different vinaigrettes that deliver plenty of flavor.
40 UNUSUAL SALAD TOPPINGS
Life beyond croutons. Try these unusual toppings for flavor and looks.