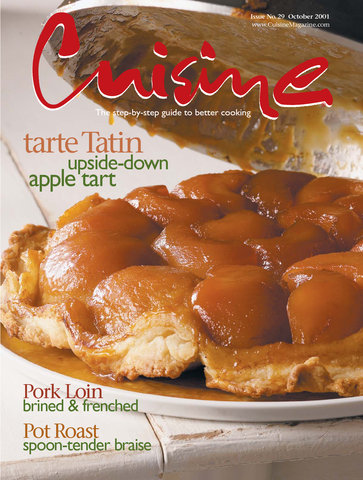 Subscribe Today!
Preview This Issue
Issue 29


October 2001
Table of Contents
Departments
4 TIPS & TECHNIQUES
10 CURRIED GREENS
Fall greens get flavor from curry powder and coconut milk.
14 BRAISING -- SPOON-TENDER POT ROAST
Interesting vegetables, the right cut of meat, and understanding a slow braise brings even pot roast to a new level.
20 SOUP -- CALDO VERDE
Once you taste this soup you'll understand why Portugal labels caldo verde its national dish.
29 PIE DOUGH
Every cook's nemesis -- pie dough. No more! Let this primer guide you to perfection.
32 ROLLING PINS
Out of the mouth of experts, pastry chef Dan Tabor explains the ins and outs of rolling pins.
40 QUESTIONS AND ANSWERS
42 WHAT'S HAPPENING IN FOOD
44 ROASTED PEAR SALAD WITH PORT VINAIGRETTE
Roasted pears make a delicious salad with blue cheese, walnuts, and bitter greens. A warm vinaigrette pulls it all together.
Feature
6 BRUNSWICK STEW
Want a change from regular old chili? This meat-lover's stew is the American south in a bowl.
9 CORN MUFFINS
Light as a whisper -- muffins that go with Brunswick Stew.
18 PREPARING FRESH HORSERADISH
Tame this gnarly root and get 1000-watt flavor.
19 HORSERADISH MASHED POTATOES
Basic mashed potatoes get major flavor from horseradish.
22 BRINED & FRENCHED PORK LOIN
One gorgeous roast from two timeless meat techniques. Great any time of the year.
28 WILD MUSHROOM SAUCE
Terrific with pork and pears, this sauce is the essence of fall.
34 FRENCH APPLE PIES
Apples are in season! They're good for eating, but best in a custard pie or classic tarte Tatin.