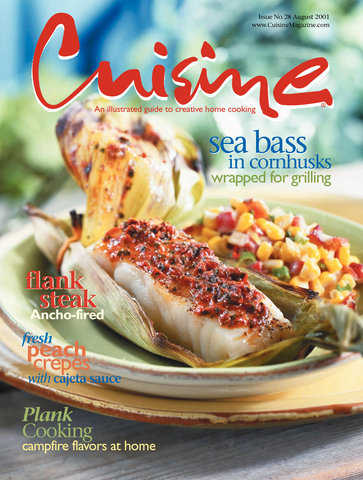 Subscribe Today!
Preview This Issue
Issue 28


August 2001
Table of Contents
Departments
4 TIPS & TECHNIQUES
34 PEPPER MILLS
40 QUESTIONS & ANSWERS
42 WHAT'S HAPPENING IN FOOD
44 PLANK-COOKED BRIE WITH PEACH CHUTNEY
Feature
6 THREE SATAYS
Kebabs in miniature. Satays make for easy, light summer fare. Team them with fresh relishes and sauces, and they're a meal.
12 PLANK COOKING
The neatest grilling you'll do all summer -- plank cooking. Transform chicken into smoky nirvana with just your grill and a cedar plank.
16 SUMMER SWEET POTATO SALAD
Seen enough potato salad this summer? This one is different. It's high time sweet potatoes have a place on the picnic table.
18 SIMPLY TOMATOES
What's the secret to picking out a good-tasting summer tomato? What kind should you buy? The answer to these questions and more.
20 GRILLED TOMATO SOUP
Making soup on the grill? Won't it fall through the grate? Grilling pops out the flavor in all the ingredients and adds a little smoke flavor to boot.
22 SUN DRESSING WITH SAUTEED TOMATOES
The sun does the cooking in this fresh-tasting tomato dressing. Perfect with a fast saute of cherry tomatoes.
24 ANCHO-FIRED FLANK STEAK
Flank steak is a Cinderella story -- so much more than what "meats" the eye. The right paste and a quick grill puts flank on top of the flavor chart.
28 GRILLED SMASHED POTATOES
Mashed potatoes are great but who wants to be in the kitchen during the summer? The answer is on your grill with these "smashed potatoes."
29 FRESH TOMATO JAM
No need for ketchup or steak sauce. Tomato jam is the classy, sweet condiment that delivers a little bite.
30 SEA BASS IN CORNHUSKS
A perfect combination of simplicity and good looks. This sea bass recipe is easy, but the cornhusk presentation makes it entertainment quality.
33 MAQUE CHOUX
A spicy and colorful creamed corn dish from New Orleans. A little rich, but just right for the lean sea bass grilled in cornhusks.
36 PEACH CREPES WITH CAJETA SAUCE
Paper-thin French pancakes surround summer peaches -- sounds good but things get even better with sweet, rich Mexican cajeta sauce.