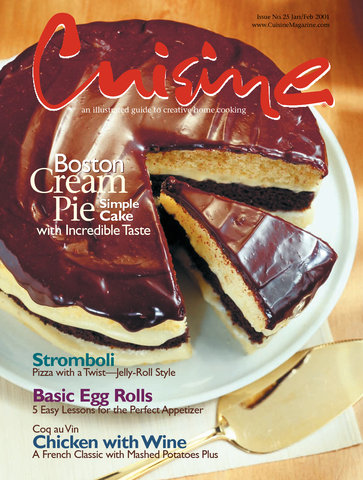 Subscribe Today!
Preview This Issue
Issue 25


February 2001
Table of Contents
Departments
4 TIPS AND TECHNIQUES
14 ASIAN SOUPS
Three Asian soups all made with chicken broth. They're fast, easy, and unbelievably authentic-tasting.
40 QUESTIONS AND ANSWERS
42 WHAT'S HAPPENING IN FOOD
44 CAKE DECORATION
Feature
6 THE VERY BEST FRENCH TOAST
Exotic batters, different breads, and varied techniques. After all the experiments, the perfect French toast ended up being the simplest.
8 STUFFING THE VERY BEST FRENCH TOAST
Take the perfect French toast and stuff it with a sweet filling. It's like eating a warm pastry right out of the baker's oven -- too rich for words.
10 BASIC EGG ROLLS
A quick stir-fry and the right wrapper makes the perfect egg roll. Prepare this classic in your own kitchen and never go out for Chinese again.
20 COQ AU VIN -- CHICKEN WITH WINE
This country French classic is simple to make. Chicken and mushrooms braised in wine until /fall-off-the-bone/ tender. It's perfect year-round, but best on cold winter nights.
24 MASHED POTATOES & ROOT VEGETABLES
It's almost a sin to mess with mashed potatoes. But adding flavorful root vegetables provides interesting taste and texture to this favorite.
26 DINNER MEXICANA
A three-course dinner that reflects the basics of Mexican cuisine -- fresh salsas, unusual seasonings, and intriguing sauces.
32 STROMBOLI
Stromboli is like a rolled-up pizza. Cut into thin slices and served with a quick marinara, it makes a perfect appetizer or entree.
36 BOSTON CREAM PIE
Whether it's a pie or a cake, this dessert is a winner. A decadent chocolate glaze covers layers of moist cake and rich pastry cream.