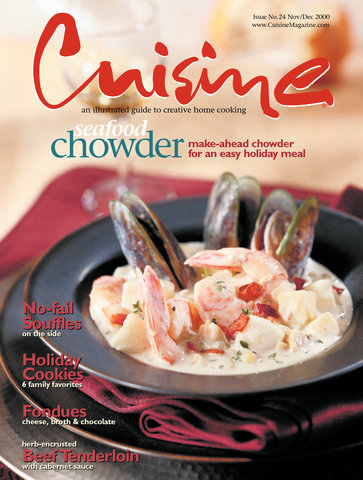 Subscribe Today!
Preview This Issue
Issue 24


December 2000
Table of Contents
Departments
4 TIPS AND TECHNIQUES
18 CHINESE FRIED RICE
Why not make fried rice at home? The ingredients are simple and it's a quick dinner that everyone likes.
40 QUESTIONS AND ANSWERS
42 WHAT'S HAPPENING IN FOOD
44 DESSERT FONDUE
Feature
6 HERB-ENCRUSTED BEEF TENDERLOIN WITH CABERNET SAUCE
A special dinner for a special time of year. Here's a fancy way to present this tender cut of beef.
10 SOUFFLES ON THE SIDE
These two side dishes are so impressive you'll be tempted to serve them as a main course.
14 THREE QUICK BREADS
Not your typical banana bread. Try one of these unusual quick breads like cranberry-pumpkin or apple-ginger. They make great holiday gifts.
24 SEAFOOD CHOWDER
Tired of the heavy holiday meals? This elegant chowder with fresh seafood is a perfect change of pace.
29 FONDUE BASICS
America's favorite retro-dinner. Whether you've fondued before or it's your first time, this is just plain fun. Here's a fondue primer.
30 CHEESE FONDUE
Cheese fondue is back and better than ever. Let's face it, great taste never really goes out of style.
32 FONDUE WITH BROTH
This fondue makes for a party that's heavy on fun, but not in calories. What more could you ask for?
36 PANNA COTTA
Panna cotta is a dramatic-looking dessert. You won't believe how easy it is to make.
38 FAMILY FAVORITE HOLIDAY COOKIES
Six holiday cookie favorites from our readers -- taste-tested over and over!