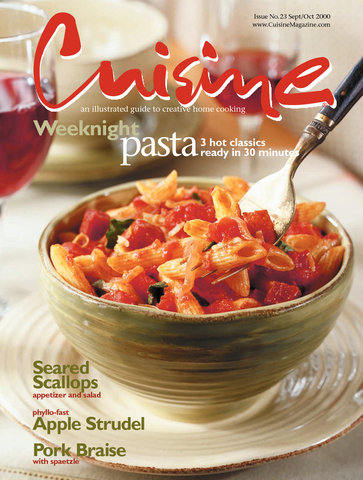 Subscribe Today!
Preview This Issue
Issue 23


October 2000
Table of Contents
Departments
4 TIPS AND TECHNIQUES
30 WEEKNIGHT PASTA
Short on time and ideas for dinner during the week? These three fast and easy pasta dishes are the ticket -- you probably have all the ingredients sitting in your pantry.
40 QUESTIONS AND ANSWERS
42 WHAT'S HAPPENING IN FOOD
44 GRITS SHELLS WITH SCALLOP "SCAMPI"
Feature
6 SCALLOPS
Scallops shouldn't just be ordered at restaurants. Here's a quick primer on scallops and two easy recipes to try in your own kitchen.
12 SIMPLE SIDES
Roasting is a great way to make everyday vegetables taste great. Try these recipes using cauliflower, broccoli, and green beans.
16 SOFT PRETZELS
Moist on this inside, crisp and brown on the outside, these pretzels are the real deal. Serve them hot for the perfect Oktoberfest or tailgate snack.
20 CHEDDAR & ALE SOUP
Here's a Cheddar soup that will warm up the coolest autumn day.
22 GERMAN CABBAGE SOUP
It takes only 30 minutes to make this vegetarian bowl of flavor.
24 HARVEST BRAISE
Whether you call it a braise or stew, it's one of the ultimate comfort foods. Pork makes it different than other stews, and braising creates a rich sauce for homemade spaetzle.
28 SPAETZLE
Spaetzle is a tiny German dumpling that is enjoying a resurgence in popularity at even the trendiest restaurants. It makes a perfect side dish because it can be made ahead and packs plenty of flavor.
36 APPLE STRUDEL
Apple strudel begins with a good pastry crust. Using store-bought phyllo dough makes it easy, but it's the ingredients between the layers that make it taste great.