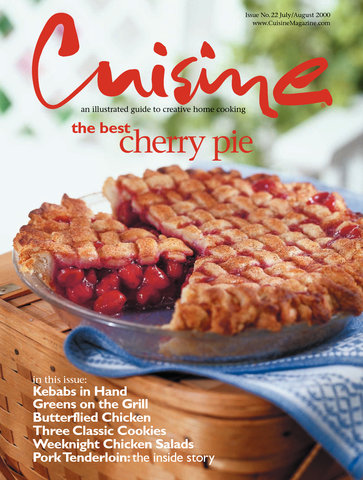 Subscribe Today!
Preview This Issue
Issue 22


August 2000
Table of Contents
Departments
4 TIPS & TECHNIQUES
19 WEEKNIGHT CHICKEN SALAD
None of us have extra time. Here are quick chicken salad recipes that use grocery store rotisserie chicken. But presentation makes these more than just another deli salad.
40 QUESTIONS AND ANSWERS
42 WHAT'S HAPPENING IN FOOD
44 GRILLED DESSERT SANDWICHES FOR FOUR
Feature
6 GREENS ON THE GRILL
A refreshing combination of grilled vegetables with vinaigrette and served warm. Perfect for a side, salad, or even light meal.
8 PORK TENDERLOIN -- THE INSIDE STORY
Don't confuse this cut with regular pork loin. Pork tenderloin is flavorful, fork-tender, and made to be grilled.
12 VERY ASIAN VARIATION
Asian marinated turns pork tenderloin into an eastern favorite. Add the accompanying chilled noodle salad for a perfect summer meal.
15 THREE CLASSIC COOKIES
Cookies are great all year round, but travel especially well on picnics. Try these three classics -- chocolate chip, oatmeal-raisin, and peanut butter. These will be a permanent addition to your recipe file.
24 KEBABS IN HAND
Shish kebabs are always a favorite, but presenting them as sandwiches raises the bar. Here are some tips on making kebabs and a few interesting variations -- Greek, Asian, and Cajun.
32 BUTTERFLIED CHICKEN
Simply one of the most tender and flavorful ways to grill a chicken. It works on either gas or charcoal grills.
36 SEEING RED
Three weeks of chaos for a year's worth of cherries -- the cherry harvest in Michigan is quite an event.
37 THE BEST CHERRY PIE
The right cherry and thickener are important to a great cherry pie. Here's the scoop on both.