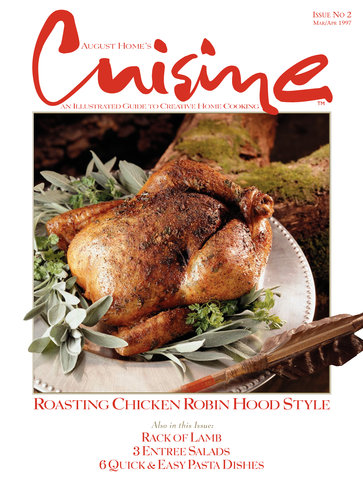 Subscribe Today!
Preview This Issue
Issue 2


April 1997
Table of Contents
Departments
4 TIPS AND TECHNIQUES
13 MASHED POTATOES
18 GOOF-PROOF OMELET
Here's how to make omelets without failure. The secret's in speed and technique.
29 POLENTA WITH CREAMED MORELS
They may be hard to find in the forest, but they're worth the hassle after you taste this recipe.
30 SELECTING A CUTTING BOARD
36 QUESTIONS & ANSWERS
41 WHAT'S HAPPENING IN FOOD
42 CARROT CAKE
Not just carrots in this cake. Pineapple and coconut add texture, body, and taste.
44 FINISHING A CARROT CAKE
Feature
6 RACK OF LAMB
It's elegant. It's quick. And it's like no lamb you've ever tasted. It's Filet Mignon, but with plenty of taste.
10 MASHED POTATOES
Do you want perfection? It takes the right potato and some tips you might not be aware of.
14 3 ENTREE SALADS
They're different, good looking, and easy to make at home.
22 ROBIN HOOD ROASTED CHICKEN
The meat is tender and juicy. The skin, crispy. This roasted chicken tastes best eaten with your hands.
26 IN SEARCH OF MORELS
Are there secrets to finding these little jewels of spring?
32 6 QUICK & EASY PASTA DISHES
Some light and flavorful variations on America's favorite meal.
38 ARTICHOKES
Low in calories, high in style. Follow our easy directions to steam, stuff, sauce, and serve.