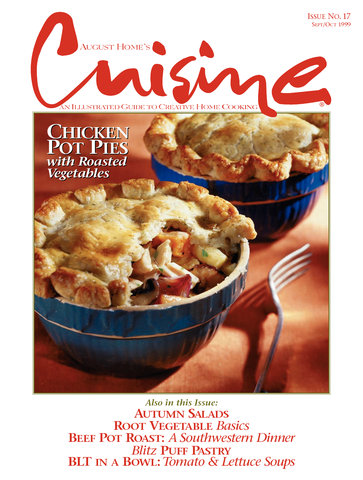 Subscribe Today!
Preview This Issue
Issue 17


October 1999
Table of Contents
Departments
4 TIPS AND TECHNIQUES
6 ROOT VEGETABLE BASICS
Some root vegetables you've heard of -- some you haven't. They're all worth trying.
22 KNIFE STEELING & SHARPENING
Find out how to keep your cutlery on its razor edge.
26 QUESTIONS & ANSWERS
28 VELOUTÉ
All sauces come from one of five Mother Sauces. Velouté is a classic white stock sauce.
36 WHAT'S HAPPENING IN FOOD
44 PEAR DUMPLING WITH CARAMEL-CREAM SAUCE
Feature
9 AUTUMN SALADS
A "sweet potato salad" made with root vegetables, and a beet salad that's as tasty as it is good-looking.
12 BEEF POT ROAST
Pot roast is at the top of the common-food chain. The Southwestern flair takes it one step higher.
18 BLT IN A BOWL
Three classic flavors combined into soups. The presentation is half the fun.
30 CHICKEN POT PIE
This pot pie is loaded with chicken, mushrooms, and root vegetables. No carrot cubes or fluorescent peas here.
37 BLITZ PUFF PASTRY
Puff pastry needs to be in your pastry arsenal -- but takes a while to make. Try this blitz to save time.
40 APPLE DUMPLINGS
Forget apple pie this year. Apple Dumplings are a favorite fall dessert that everyone will clamor for.