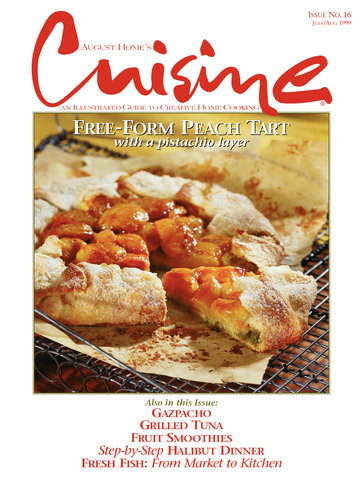 Subscribe Today!
Preview This Issue
Issue 16


August 1999
Table of Contents
Departments
4 TIPS AND TECHNIQUES
12 TUNA
Test your tuna knowledge. Find out just how much you really know about this warm-blooded fish.
28 HALIBUT DINNER
Hosting a dinner? I'll show how to put this one together. Its presentation will knock your socks off.
36 QUESTIONS & ANSWERS
40 WHAT'S HAPPENING IN FOOD
44 GAZPACHO "SAUCE" WITH SEAFOOD
Feature
6 FULTON FISH MARKET
This market springs to life each night. Cargoes that arrive and depart are the fish we'll eat today.
8 FRESH FISH: FROM MARKET TO KITCHEN
Feel too intimidated to buy fresh fish at your market? Here's advice from a real fishmonger.
15 GRILLED TUNA
Grilled Steak doesn't have to mean beef. It's time you dropped your inhibitions about grilling fish.
18 FRUIT SMOOTHIES
Plug in your blender. With fresh fruits peaking, it's high time we made some summer drinks.
22 3 PASTA SALADS
Forget about macaroni and mayonnaise. My salads are triple hits of pasta, summer vegetables, and unusual toppings.
34 LAYERS OF FLAVOR
The perfect side dishes. This clever alternative combines good flavor with a neat presentation.
38 GAZPACHO
End a hot, lazy summer day with this chilled soup -- served with grilled, marinated shrimp.
41 FREE-FORM PEACH TART
A rustic bottom-crust with fresh peaches. Hidden in between, a layer of sweet pistachio. Oh, My!