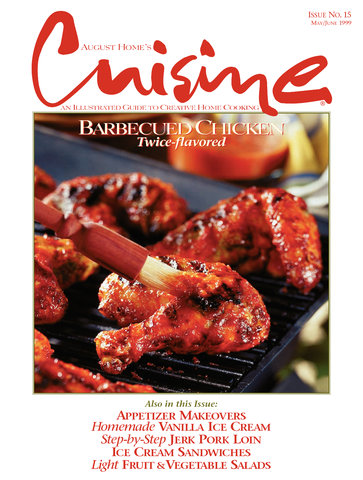 Subscribe Today!
Preview This Issue
Issue 15


June 1999
Table of Contents
Departments
4 TIPS AND TECHNIQUES
6 FRUIT & VEGETABLE SALADS
When opposites attract and meet on a salad plate, the flavors create a unique tension of taste.
10 3 GRILLED BURGERS
What'll you have -- lamb, beef, or poultry? I'll show how to grind, grill, and sauce outstanding burgers.
20 TELEVISION APPLIANCES
23 WHAT'S HAPPENING IN FOOD
38 QUESTIONS & ANSWERS
44 LACE BASKET WITH ICE CREAM AND TROPICAL FRUIT SALAD
Feature
15 TWICE-FLAVORED BBQ CHICKEN
Beauty may be skin deep, but the flavor in this BBQ chicken is two layers deep.
24 APPETIZER MAKEOVERS
A face-lift for common appetizers. How about baked (not fried) jalapeño poppers? Or Mediterranean Nachos.
28 EXOTIC FRUIT
A guide to the unusual fruits we find in stores but have no idea how to choose, cut, or eat.
32 JERK PORK LOIN WITH TROPICAL COUSCOUS
For this Jamaican import, Scotch bonnets deliver the heat and pineapple cools it down.
40 VANILLA ICE CREAM
Here's the secret. /Real/ vanilla ice cream starts with a custard base.
42 ICE CREAM SANDWICHES
Remember chasing ice cream trucks? Here's the adult version of those same treats.