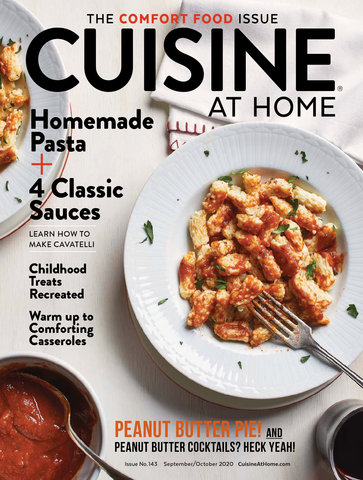 October 2020
Issue 143
Subscribe Today!
Preview This Issue
Subscription Options
Table of Contents
Seasonal Kitchen: Cabbage
12
This favorite cruciferous vegetable transforms into fried wedges, a rich gratin, and even a cake!
Bloomin' Cabbage Wedges
12
Chocolate Cabbage Bundt Cake with whipped cream cheese frosting
16
Three classic comfort foods get an update and turn into hearty weeknight fare in no time.
Bacon Cheeseburger Casserole
18
Chicken Cordon Bleu Casserole
20
Crispy Romaine Salad with apples & beets
20
Citrus Tuna Noodle Casserole
22
Iceberg Wedge Salad with thousand island
23
Turn back time with these homemade versions of some of our favorite classic childhood treats.
Homemade Animal Cookies
25
Homemade Pop Tarts with strawberry or brown sugar-cinnamon filling
26
Homemade Graham Crackers with cinnamon-sugar
27
Comfort food doesn't always have to be large family-style affairs — these two menus are perfect for duos.
Chicken & Noodles with mushrooms and herbs
30
Try to incorporate these 10 superfoods, each known for their health benefits, into your diet.
Cuisine Class: Homemade Pasta
36
Learn how easy it is to make homemade pasta and turn it into cavatelli — a family favorite of Teresa's.
With four classic Italian sauces highlighted, two tomato-based and two creamy sauces, there should not be any guessing how to dress your pasta shape of choice.
The cookbook, The Food in Jars Kitchen, demonstrates how best to use up preserves, whether homemade or store bought, in creative ways you may not have thought of.
Tomato Jam and Smoked Paprika Granola
50
Skillet-Size Potato Pancake
52
Measuring Cups & Spoons
54
These humble kitchen tools get much more of a workout than you likely imagine. Discover which set is our favorite.
A chuck roast is the perfect cut for your trusted slow cooker. With two unique recipes, one with Spanish flavors and the other Italian inspired, you'll be hard pressed to pick a favorite.
Spanish Pot Roast with anchovies & sherry
56
Mashed Cauliflower with Manzanilla olives
56
Beef in Italian Red Wine
58
Peanut Butter Cocktails
60
Skrewball Peanut Butter Whiskey is somewhat new but we're sure you'll agree, it's here to stay.
Peanut Butter Cup Cocktail
60
Hot Peanut Butter Toddy
63
Learn about the most common varieties, buying and storing info, plus nutrition & health benefits.
1 Ingredient 4 Ways: Pears
66
With both sweet and savory recipes, let us inspire you to put the sweet, aromatic fruit to tasty use this fall.
Pear-Fig Bars with almond streusel
66
Sweet Walnut Pear Salad with bitter greens
68
Pear & Chocolate Bread Pudding
69
Faster with Fewer: Soups
70
Quick, yummy, and easy to come together, these four soups are the trifecta of the season. Ladle up.
Creole Chicken Noodle Soup
70
Lamb & Barley Soup with harissa
71
Mushroom & Zucchini Soup
72
Peanut Butter Pie with ganache
76
Ethereal, nutty, and chocolatey, this pie is one you'll be dreaming of long after it's gone