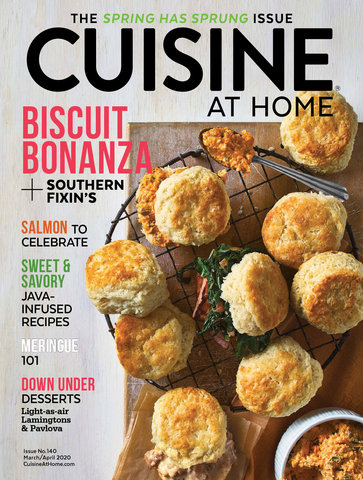 April 2020
Issue 140
Subscribe Today!
Preview This Issue
Subscription Options
Table of Contents
Online Extras
Seasonal Kitchen: Artichokes
12
Learn how to prepare and cook one of the season's most coveted vegetables.
It's that time of year when comfort foods start to take a backseat to lighter and fresher meals.
Lamb Chops with mustard-thyme sauce
16
Roasted Fingerling Potatoes with carrots & green beans
16
Maple-Lemon Glazed Chicken
18
Spring Greens with lemon-honey vinaigrette
19
Asian Steak & Noodle Soup
20
Egg Foo Yong with scallions & bean sprouts
20
With biscuits and toppings as simple as these, you'll wonder why you're not making them more often.
Pimento Cheese with jalapeño
22
Sausage Gravy with apple & sage
22
Date nights can be enjoyed any night of the week with these three satisfying all-in-one meals.
Grilled Chicken & Radish Salad with carrot-miso dressing
26
Ham & Rice with edamame
28
Pan-Seared Steak with potatoes, cauliflower & leeks
29
Learn all about eggs' health, nutrition, and packaging in this article written by Sophie Egan.
Coffee grinders are key to a good cup of java. Look no further, we've narrowed down the search for you.
Buy OXO BREW Conical Burr Coffee Grinder
Buy Baratza Encore Conical Burr Coffee Grinder