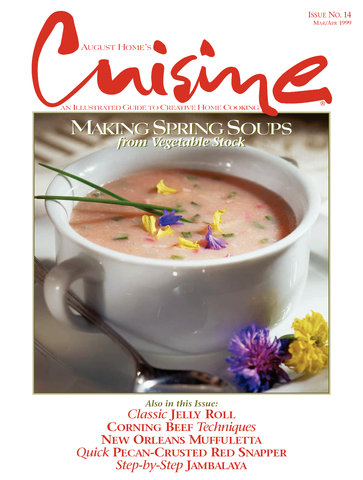 Subscribe Today!
Preview This Issue
Issue 14


April 1999
Table of Contents
Departments
4 TIPS AND TECHNIQUES
14 SPRING SOUPS
Learn to make a vegetable stock, then use the stock to create light, pureed pea, asparagus, or radish soups.
18 WHOLE CANNED TOMATOES
20 WHAT'S HAPPENING IN FOOD
24 CORNING BEEF
Once I show you how to cure a brisket at home, "store-bought" corned beef won't be the same.
32 PECAN-CRUSTED RED SNAPPER
Make it quick -- fresh snapper, French beans and Remoulade Sauce.
36 QUESTIONS & ANSWERS
38 JELLY ROLL
Lemon filling rolled inside lemon cake, outlined with a layer of strawberry sauce. A Classic.
44 MAKING A GINGER-LEMON JELLY ROLL
Feature
6 JAMBALAYA
Classic Louisiana cuisine. Rice with sausage, crawfish, and ham -- flavored with pure Bayou heat.
12 NEW ORLEANS MUFFULETTA
With its built-in salad and layers of meat and cheese, this is one BIG sandwich. Open wide!
21 BEIGNETS
These "square doughnuts" are a New Orleans tradition. Serve them hot with lots of chicory coffee.
26 CORNED BEEF DINNER
This is corned beef re-invented. Rubbed, braised, and glazed -- a bold (/not boiled/) taste.
30 CORNED BEEF COMPANIONS
Oh no! Not the same old cabbage and potatoes. A new approach to old companions.