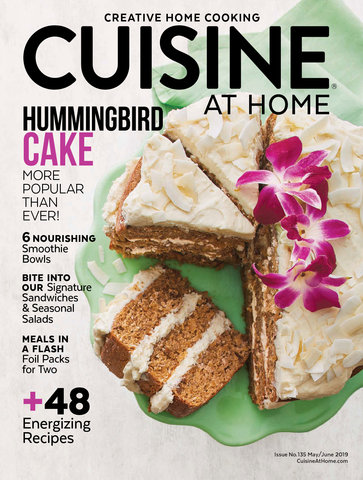 Subscribe Today!
Preview This Issue
Issue 135


June 2019
Online Extras
Recipes
Couscous is a world-renowned Moroccan specialty. And with [Preserved Meyer Lemon](/recipes/sauces-and-stuff/preserved-meyer-lemons/ "Recipe: Preserved Meyer Lemons") and dried apricots added in, this dish is delightfully light and aromatic.
Videos
Removing silverskin is the first thing you would do when preparing pork loin, tenderloin, or beef tenderloin — it gets tough when cooked, so it's best to remove it.
Butterflying a roast is essential to know how to do, if you like stuffed roasts. And the nice thing about this process is that it doesn't have to be …
Learning how to tie a slip knot is not essential to tying a roast, but it is a more professional way of tying a roast than your standard knot. And …
Sources
Table of Contents
Departments
12 Seasonal Kitchen: Fresh Herbs
Fresh herbs can take a dish from good to great — learn all about six common herbs and how to grow your own.
16 Cuisine Tonight: Super Sammies
Packed with flavor and a cinch to make, these satisfying sandwich menus are praiseworthy.
22 Test Kitchen Favorites: Smoothie Bowls
Start your day off right with these almost-too-pretty-to-eat smoothie bowls loaded with good-for-you stuff.
28 Cuisine for Two: Foil Packs
If quick meals, with little clean up sounds enticing to you, add these three foil pack meals to your lineup.
32 Healthy Cuisine: Healthy Living
Cookbook author, Maggie Battista, promotes healthy living with wholesome salads and a pantry revamp.
56 Cuisine Class: Stuffed Pork Loin
Butterflying a roast is as easy as opening a book — time to sharpen your knife and get to it.
64 1 Ingredient 4 Ways: Eggs
The incomparable egg is a culinary wonder. Check out the many ways you can put them to use.
70 Faster with Fewer: Global Meals
Travel around the globe without leaving your home with these unique meals that come together in a flash.
76 Grand Finale: Hummingbird Cake
This celebrated tropical flavored cake is the sweetest tasting "bird of paradise" you'll ever encounter.
Features
40 Belgian Waffles
Crisp and golden on the outside, light and airy on the inside, our yeasted Belgian waffles will leave you full and satisfied. Try these irresistible treats for breakfast, lunch, dinner, or dessert.
44 Preserved Lemons
Remember the Preserved Meyer Lemon recipe from our last issue? It's time to grab the jar from the fridge, and put that secret flavor booster to use in these five recipes.
48 Italian Appetizers
Fire up the grill and get the party started with our easy-to-make grilled Italian appetizers. Paired with a citrusy sangría, this party is sure to be the talk of the town.