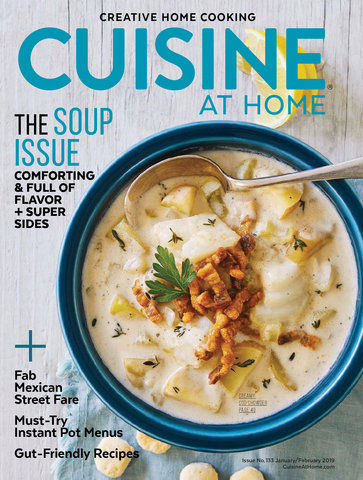 Subscribe Today!
Preview This Issue
Issue 133


February 2019
Online Extras
Videos
Whether you've assembled a layer cake before, or not, this simple tutorial will help you through the process so you'll be a cake-assembly pro in no time.
If you've ever had Tacos Al Pastor, you know how mouth-watering they are. This popular Mexican street food is the ultimate in fusion cuisine — tacos and shawarma. Now, you …
Tahini seems to be everywhere. But if you've ever wondered what to do with that container hanging around your kitchen beyond making hummus, this quick video shows you how …
Table of Contents
Departments
10 Seasonal Kitchen: Parsnips
Utilize this often overlooked root vegetable — parsnip — in a smooth, creamy, and slightly sweet soup.
12 Cuisine Tonight: Instant Pot
The Instant Pot serves up soulful, stick-to-your-ribs (pun intended) comfort — in no time — any night of the week.
16 Test Kitchen Favorites: Tahini
Tahini is much more than just a hummus ingredient — and these sweet and savory recipes prove it.
20 Cuisine for Two: Lobster Valentine's Dinner
Just in time for Valentine's Day, this elegant and impressive menu is made with love in mind.
24 Healthy Cuisine: Gut Health
The more you understand the importance of your gut, the happier and healthier it will be.
32 Cuisine Class: Nut Milk & Cream
Dairy-free and delicious, nut milks and creams are easy to make, plus you control the list of ingredients.
38 1 Ingredient 4 Ways: Cod
An important commodity since the Vikings, cod is still revered and it's one of the most versatile fishes around.
42 Faster with Fewer: On-the-Go
Even when you're busy, you still need to eat. These 4 quick and easy meals keep you full while on-the-go.
48 Cuisine Collection: Soups & Sides
Creative soups and side dishes are just what you'll need to get you through the cold weather months.
62 Grand Finale: Brooklyn Blackout Cake
Look to this chocolate on chocolate on chocolate cake to satisfy those sweet, dark chocolate cravings.
Features
28 Mexican Street Fare
Meaning "shepherd style," al pastor is a technique for preparing "gyro-like" taco meat. This version created for the home cook keeps things simple, with the bulk of the work done ahead of time, for amazingly delicious tacos.
34 The Japanese Larder
Take a stab at Japanese cooking, and feel confident while doing it. Chef Luiz Hara demystifies Japanese ingredients and puts them to use for cooking at home.