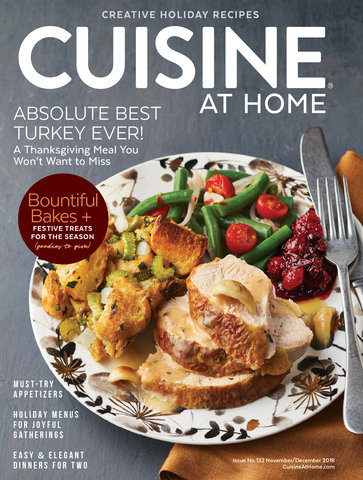 Subscribe Today!
Preview This Issue
Issue 132


December 2018
Table of Contents
Departments
10 Seasonal Kitchen: Cinnamon Once used in love potions, cinnamon is still as alluring and intriguing as ever.
12 Cuisine Tonight: Turkey Leftovers Revamp your post-Thanksgiving turkey into instant dinner winners with these tasty menus.
16 Test Kitchen Favorites: Homemade Treats Up the ante on holiday treats with an array of savory bites that are perfect for gifting.
20 Cuisine for Two: Holiday Meals These ever-so-elegant dinners for two prove minimal effort yields maximum flavor results.
36 All About: Oysters Dive deep and you'll find there's more than meets the eye when it comes to this shellfish delicacy.
38 1 Ingredient 4 Ways: Oysters Fried, broiled, simmered, or raw, put your newly found oyster knowledge to use in 4 uniquely different recipes.
42 Faster with Fewer: Holiday Appetizers Raise your glass to toast these four quick and easy app recipes your guests are guaranteed to love.
48 Grand Finale: Sweet Potato Pie
Take a classic pie served at the holidays and swap it out for one that's just as good, and maybe even better.
51 Holiday Baking You'll impress family and friends with your baking skills when you serve any one of these festive recipes.
Features
24 Salt-Crusted Beef Tenderloin Menu Beef tenderloin is for very special occasions — it's the best of the best. And this salt-crusted roast, and side dishes, make an all-out celebratory meal. But the real secret is this impressive spread is easy to prepare.
28 Celebration Breads Get your holiday bread baking going in just 5 minutes a day with recipes for Panettone and Stollen developed by the authors of Holiday and Celebration Bread in Five Minutes a Day.
32 Thanksgiving Dinner For a flavorful change of pace, take a few liberties and try this French-inspired feast. The recipes aren't too far from the classics, but just different enough to stir things up a bit.