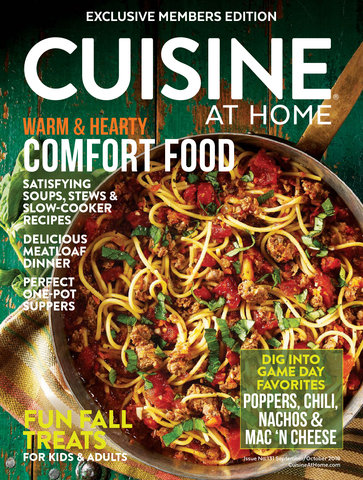 Subscribe Today!
Preview This Issue
Issue 131


October 2018
Online Extras
Recipes
Homemade Crème Fraîche
Makes: 16 servings (2 Cups)
Total Time: 1–2 days
Combine cream and buttermilk in a sterile jar with a tight-fitting lid. Shake to combine and let stand at room temperature until thickened, 24–48 hours. Shake gently, then chill until ready to use (it will continue to thicken as it chills). Crème fraîche keeps in the refrigerator for up to 2 weeks.
Nutrition Info:
Per Per 2 Tbsp.: 105 cal; 11g total fat (7g sat); 41mg chol; 15mg sodium; 1g carb; 0g fiber; 1g protein
Caramel Sauce
Makes: 20 servings (about 1 ¼ cups)
Total Time: 20 minutes + cooling
Boil sugar, water, corn syrup, and salt in a saucepan over medium-high heat, swirling occasionally. Cook until caramel is a deep iced tea color, 10 minutes.
Add cream and butter, whisking to combine. Off heat, whisk in vanilla bean paste. Transfer sauce to a bowl to cool.
Nutrition Info:
Per Per 1 Tbsp.: 82 cal; 6g total fat (4g sat); 18mg chol; 6mg sodium; 9g carb; fiber; 0g protein
Videos
How to Make Flour Tortillas
How to Make Homemade Corn Tortillas
Sources
Cookie Stamps
Cream Canoe Pan
Table of Contents
Departments
10 RED GRAPE HARVEST CAKE
With the grape harvest season in full swing, try them in a cake and sauce that highlight this favorite fruit.
12 CHICKEN STEWS
Enjoy the flavors of India and Spain without leaving your house with these two flavor-forward stews.
16 TEST KITCHEN FAVORITES: COOKIES & CAKES
Take after-school treats to the next level by creating homemade versions of store-bought favorites.
20 SANDWICHES & SALADS
Rich, indulgent open-faced sandwiches take center plate in these menus, and don?t forget the crisp salads.
24 COOKING WITH JODI MORENO
Get to know one of our favorite food bloggers and try some soul-satisfying recipes from her new cookbook.
36 HOW TO MAKE CORN AND FLOUR TORTILLAS
Ditch the packaged tortillas and try your hand at making them yourself. They?re easier than you think!
42 ONE-POT SUPPERS
Quick comfort is the name of the game with these four delicious recipes ? plus one-pot means easy clean up!
48 VANILLA BEAN TAPIOCA PUDDING
Take a trip down memory lane with a classic pudding that?s sure to remind you of Grandma.
51 SLOW COOKER MENUS
Unleash the potential of your slow cooker with these creative menus that are perfect for busy nights.
Feature
28 DINER-STYLE MEATLOAF DINNER
Cheeseburgers, meatloaf, salad, and milkshakes ? what could be better? Recreate, and reinvent, some of your favorite diner staples with this hearty menu that?s sure to please ? no blue plate necessary.
32 TAILGATE MENU
Be game-day ready with these recipes that take the beer out of your red cup and turns it into a featured ingredient. With a menu of chili, mac ?n cheese, jalapeño poppers, and punch, you?ll feel like a champion.
39 ENCHILADAS & NACHOS
Put your new knowledge of homemade tortilla making to use in these two dynamite recipes. With satisfying vegetarian enchiladas and piled-high nachos, you may be making fresh tortillas every week.