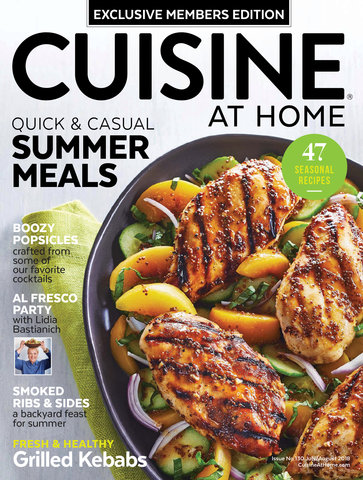 Subscribe Today!
Preview This Issue
Issue 130


August 2018
Online Extras
Videos
Learn how to set up a charcoal smoker with this short technique video from the test kitchen of Cuisine at Home magazine. Simply follow our Do's and Don'ts …
Sources
Amazon.com (popsicle molds)
Table of Contents
Departments
6 TIPS FROM OUR READERS
8 IN THE NOW
10 AVOCADO BRUSCHETTA
This versatile fruit is so much more than a guacamole ingredient — it's incredibly good for you, too.
12 BOOZY POPSICLES
Inspired by a few classic cocktails, these spiked pops are sure to take the edge off of the hot summer sun.
16 CHOPS & SALADS
A grilled chop and salad is the perfect meal for two — and best served on the patio.
20 HEALTHY CUISINE: SKEWERS
These two satisfying menus prove that food on a stick can not only be delicious, but also nutritious.
32 CUISINE CLASS: SMOKING RIBS
It's outdoor cooking season, and with this simple tutorial, you'll be smoking ribs (et al) like a pro.
38 1 IN 4: SWEET CORN
Cut the kernels off the cobs and transform them into one (or all) of these fantastic, corn-centric creations.
42 SUMMER MEALS
Spend less time in the kitchen and more time enjoying the fleeting season with these fresh 30-minute meals.
46 ASK THE EDITIORS
48 MIXED BERRY & CORNMEAL SLUMP
For a sweet taste of summer, dig into this rustic three-berry fruit slump — ice cream optional.
51 SANDWICHES & SIDES
Quick and casual meal options are a must come summertime. These seven menus are just the ticket.
Feature
24 AL FRESCO: ENTERTAINING WITH LIDIA
Summer means al fresco celebrations. And when you want to give your soirée an Italian bent, while keeping things simple and oh-so-good, there is no other master to tap into than Lidia Bastianich. This menu features four recipes from her latest cookbook.
28 EXPLORING THE CUISINE OF INDONESIA
While a tropical trip might not be in your plans, you can still spice up your game. This easily accessible Indonesian menu is a reflection of the diverse cultural and ethnic influences that have made the food some of the best in the world.