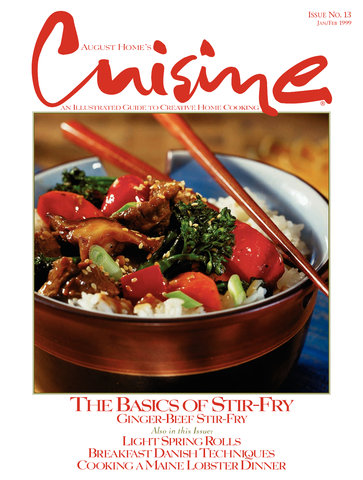 Subscribe Today!
Preview This Issue
Issue 13


February 1999
Table of Contents
Departments
4 TIPS AND TECHNIQUES
6 STIR-FRY
Visit any "Basics" classroom. There, you'll learn stir-fry -- a healthy way to eat after the holidays.
13 SPRING ROLLS
These spring rolls are good-looking and low-fat. Once you get the hang of it, they're easy to make.
16 BREAKFAST DANISH
Make a classic danish braid with /Cuisine's/ no-fail technique. Extra help provided at every step.
20 KNIFE SKILLS
Take a short course on one of the "Basics" -- how to handle a chef's knife.
32 QUESTIONS & ANSWERS
37 CHILI DINNER
Black bean chili, corn dumplings, Asian slaw. A meatless chili dinner.
40 WHAT'S HAPPENING IN FOOD
44 MAKING RED WINE POACHED PEARS FOR FOUR
Feature
22 MAINE LOBSTER
Maine is the leader in preserving and conserving "the ultimate white meat." Learn how they do it.
24 COOKING FRESH LOBSTER
No need for pliers at the table -- here's a graceful, "reassembled" lobster.
30 DUCHESS POTATOES
Mashed Yukon Golds achieve special status with this "duchess" form.
31 POTATO GALETTE
Spirals of paper-thin sliced potatoes -- fried golden then baked crisp.
34 UNUSUAL CHILIES
A winning "bowl of red" from Texas teams up with a hominy "white" chili.
41 PLATE PAINTING
Learn how to create with a palette of sauces. I'll show you four easy plate-painting designs.
42 POACHED PEARS
With hearts drawn in a raspberry-caramel sauce -- a special dessert you can make for your Valentine.