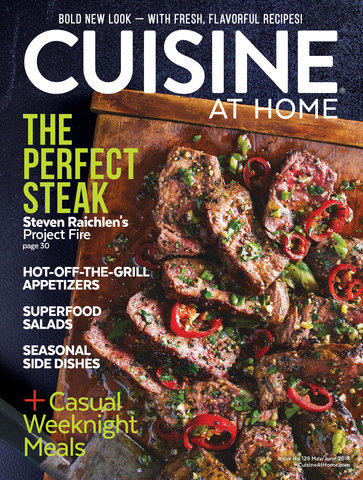 Subscribe Today!
Preview This Issue
Issue 129


June 2018
Online Extras
Videos
Learn how to make frosting designs on cupcakes with this short video from the test kitchen of Cuisine at Home magazine. We'll show you different piping tips and techniques …
Learn how to sharpen a knife with a steel rod—watch this video from the test kitchen of Cuisine at Home magazine. We'll show you proper technique for honing …
Learn how to make cucumber soju cocktails with this short video from the test kitchen of Cuisine at Home magazine. They're beautiful and refreshing—a fun cooler for your …
Sources
Project Fire
Steeling
Key Lime Cheesecake with fruit salsa
Learn how to put the finishing touches on your cheesecake with this Piping Video
For all of your baking and piping needs, check out wilton.com
Table of Contents
Departments
6 TIPS FROM OUR READERS
8 IN THE NOW
10 ROTISSERIE CHICKEN
Make weeknights easy — stop at the store, grab a bird, pick a recipe, and a tasty dinner will be ready in a flash.
16 SUPERFOOD SALADS
Skip the fad diets, and stick to foods that are proven to be good for you with these all-in-one meals.
20 MOTHER'S DAY
Show Mom you care with this Mexican-inspired brunch that's stunning, yet easy to throw together.
24 1 IN 4: STRAWBERRIES
Load up on one of the season's pure pleasures, strawberries — these recipes make them shine.
28 STEELING
Learn how to keep your knives sharper longer by the simple act of steeling on a regular basis.
40 SUMMER SIDES
Pretty enough for company, easy enough for every day, these sides celebrate garden-fresh produce.
44 SEASONAL KITCHEN: ARUGULA
Learn all about this peppery salad green, then turn it into a flavorful emerald-green pesto.
46 ASK THE EDITIORS
48 KEY LIME CHEESECAKE WITH FRUIT SALSA
With one bite of this tart key lime cheesecake you'll feel like you've been transported to sunny Key West.
51 MENUS FOR TWO
Cooking for two can be a challenge, but this collection delivers perfectly portioned meals just for you.
Feature
30 PROJECT FIRE
With grilling season upon us, a new book is on the scene and ready to change the way you think. Grilling guru Steven Raichlen knows a thing or two about cooking with fire, and in his book Project Fire you'll learn the techniques he's famous for.
34 KOREAN APPETIZERS
Heat and spice, and everything nice, sums up these three grilled appetizers. Whether you're hanging out on the deck, or throwing a party, this menu gives you every reason to celebrate the season with friends and family — a fire pit is optional.