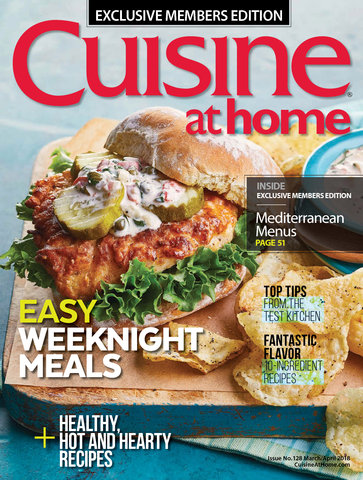 Subscribe Today!
Preview This Issue
Issue 128


April 2018
Online Extras
Videos
Learn how to make aebleskiver with this short technique video from the test kitchen of Cuisine at Home magazine. We show the frying process from start to finish, including the …
Sources
Table of Contents
Departments
4 FROM OUR READERS
8 Q&A
10 STELLAR STIR-FRIES
Skip the takeout. These stir-fries come together in mere minutes — perfect for weeknight meals.
16 FAVORITES: BREAKFAST
For an extra-special breakfast, take your cues from the Danish and Swiss with one of these two recipes.
20 CUISINE FOR TWO: SALMON
Whether seared or poached, salmon makes a knockout dinner that's easy to make for just two people.
24 HEALTHY CUISINE: LENTILS
Incorporate a plant-based protein into your diet using lentils for three creative and healthy recipes.
32 GATHERINGS: EASTER
This stunning feast is incredibly tasty, yet easy. You'll be celebrating right along with your guests.
36 1 INGREDIENT 4 WAYS: ASPARAGUS
Let this spring vegetable shine in four noteworthy recipes for soup, risotto, tarts, and a side dish.
40 FRESH-CUT FRENCH FRIES
Learn the art of french frying with this at-home tutorial on making crispy, restaurant-worthy fries.
46 MEXICAN MEALS
When you need dinner, and need it fast, turn to these simple, yet flavorful, Mexican offerings.
48 ANGEL FOOD CAKE WITH WHIPPED CREAM & STRAWBERRIES
This angel food cake is not only ultra-light and ethereal, it's devilishly delicious, too.
51 MEDITERRANEAN CUISINE
Feature
28 SHEET PAN DINNERS
Redefine the baking sheet with these all-in-one dishes that are within reach any night of the week.
42 PUB GRUB
Make bar food at home with these quintessential cheeseburgers and crispy chicken sandwiches.