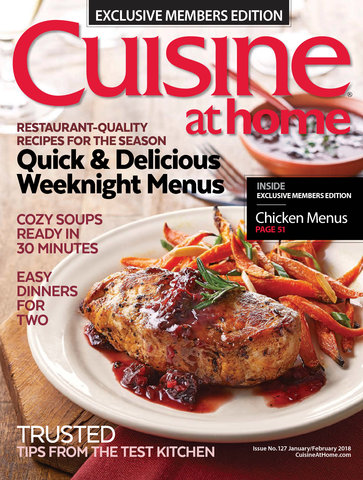 Subscribe Today!
Preview This Issue
Issue 127


February 2018
Online Extras
Videos
Learn how to make homemade gnocchi with this short technique video from the test kitchen of Cuisine at Home magazine. Our method uses minimal flour for soft, delicate potato gnocchi …
Table of Contents
Departments
4 TIPS & TIMESAVERS
8 Q&A
10 SAUCY SUPPERS
When it comes to quick suppers, a simple fruit-based sauce is sure to sweeten the night away.
16 INSTANT POT
Put your Instant Pot to good use when you want comforting meals — perfect for a winter's night.
20 CAST-IRON STEAKS
Dust off your cast-iron skillet and sear steaks to perfection for two knock-out dinners.
24 HEALTHY CUISINE: TOFU
Give this versatile protein a try with recipes that celebrate healthy, good-for-you ingredients.
32 MARDI GRAS
Let the good times roll at your next get-together with a dynamite New Orleans-inspired menu.
36 1 IN 4: CHOCOLATE
Indulge your valentine (and sweet tooth) with any or all four of these chocolate creations.
40 CUISINE CLASS: GNOCCHI
Learn how to make light-as-a-cloud potato gnocchi, then spread your wings and try the variations.
46 FASTER WITH FEWER: SOUP
Get the pots simmering and the ladles ready — it's soup season, and these four recipes are sure to satisfy.
48 BAKLAVA WITH ORANGE & CARDAMOM
Drench crisp, buttery layers of pastry and crunchy nuts in a sticky, aromatic syrup for perfect baklava.
51 CHICKEN MENUS
You can never have too many ideas for preparing chicken, and these seven dinners are winners.
Feature
28 CASSEROLES
Cold weather months call for casseroles that comfort, and these two hearty menus do just that.
44 POTATO SKINS
When life gives you potato skins, top them with chili, sour cream, or cheese sauce, and it's time for a party.