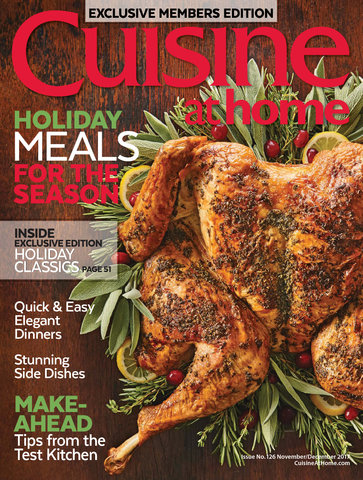 Subscribe Today!
Preview This Issue
Issue 126


December 2017
Online Extras
Videos
Learn how to spatchcock a turkey with this short technique video from the test kitchen of Cuisine at Home magazine. We show you how to cut and spread the bird …
Learn how to make laminated dough with this short technique video from the test kitchen of Cuisine at Home magazine. Roll and fold your way to perfect, flaky pastry dough …
Learn how to make marshmallow meringue with this short technique video from the Test Kitchens of Cuisine at Home magazine. It's the perfect topping for our beautiful [Salted Caramel …
Sources
Gingerbread House
If you've ever wanted to build a gingerbread house, this sweet cottage is the place to start. Let your imagination run wild when decorating this simple-to-accomplish, yet built-to-impress holiday home. Print out these easy-to-follow templates that will have you creating this show-stopping Hansel & Gretel cottage in no time.
Table of Contents
Departments
4 FROM OUR READERS
6 Q&A
8 HOLIDAY EVE SOUPS
With creamy squash, chicken & wild rice, and a classic seafood stew, get your soup bowls ready.
14 APRICOT & ALMOND KRINGLE
Thanks to its flaky texture and gooey filling, this pastry will make the chattiest of eaters speechless.
16 HOLIDAY COOKIES
In keeping with the season, our staff shares four of their favorite holiday cookie recipes with you.
20 KING CRAB
Celebrate in true royal fashion with this Champagne-inspired menu fit for two.
32 HOLIDAY PARTY
Be stress-free and soirée-ready with these simple make-ahead appetizers and cocktails.
38 ROASTED SPATCHCOCKED TURKEY WITH LEMON-HERB BUTTER
Roast a beautiful, juicy turkey in half the time when you learn the technique of spatchcocking.
44 TURKEY LEFTOVERS
Let's talk turkey. Make the most of your leftovers with these four, fast recipes — you'll gobble them right up.
46 SALTED CARAMEL PIE WITH TOASTED MARSHMALLOW MERINGUE
Flood a pretzel crust with fudge, salted caramel custard, and a fluffy meringue for dessert perfection.
51 HOLIDAY CLASSICS
Get your sweet tooth in the holiday spirit with these classic confections that defi ne the season.
Feature
24 MEXICAN MENU
Wanna warm your soul? Turn to this bold-flavored Mexican fare during these cold-weather months.
28 BAKED PASTAS
Whip up a couple of classic mother sauces and eat twice with these two comforting pasta recipes.
40 THANKSGIVING SIDES
When the side dishes are this simple and delicious, you may overlook the turkey altogether.