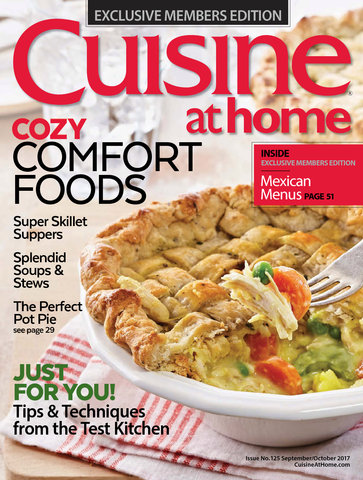 Subscribe Today!
Preview This Issue
Issue 125


October 2017
Table of Contents
Departments
4 FROM OUR READERS
6 Q&A
8 SKILLET SUPPERS
Warm and hearty, these farmhouse-style suppers truly are worthy of the label "skillet sensations."
14 FIG BARS
With dried figs and a buttery dough, these bars bring back a childhood favorite that you're bound to adore.
16 BREAKFAST CASSEROLES
Early company coming? Make it easy, and tasty, on yourself with one of these sweet or savory casseroles.
20 PORK TENDERLOIN
Pork tenderloin is the chameleon of the food world. It can be dressed up or down and still taste great.
24 VEGETARIAN TOM YUM WITH TOFU & SHIITAKE MUSHROOMS
32 FALL PARTY
No need to stress about what to make for an autumn get together. This menu has you covered.
36 1 INGREDIENT 4 WAYS: CAULIFLOWER
Cauliflower takes the front seat in these four distinctly different dishes — so grab a head and get cookin'.
40 RYE BREAD
You've never had a loaf of rye bread like this before. Full of flavor, you'll never buy another loaf again.
42 CUISINE TECHNIQUE: PASTRAMI
Making pastrami isn't a weeknight project, but once you try your hand at making this highly coveted deli staple, you'll fall head over heels for its succulent slices.
46 PASTA SAUCES
No need to open a jar. With these four pasta sauce recipes, satisfying dinners are done pronto.
48 MOCHA BOSTON CREAM PIE
As stunning as this three-layer skyscraper version of Boston Cream Pie looks, it tastes even better.
51 MEXICAN MENUS
Keep dinner interesting with this collection of simple yet sensational Mexican dinners.
Feature
28 MAKE-AHEAD POT PIES
Get your TV trays ready. Frozen pot pies make it easy to enjoy this comfort food any night.