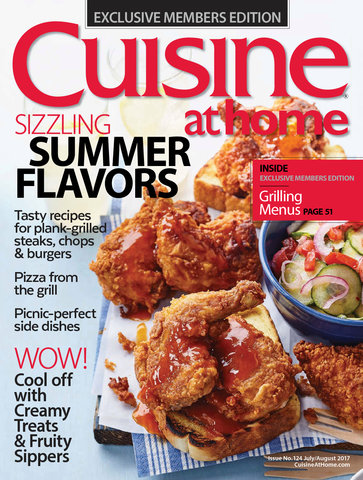 Subscribe Today!
Preview This Issue
Issue 124


August 2017
Table of Contents
Departments
4 FROM OUR READERS
6 Q&A
8 MINIMALIST COOKING
It's true! Some of the best meals rely on only a few quality ingredients and some simple preparations.
14 SEASONAL: CHERRIES
Maraschino cherries let you savor the season and add some pizzazz to homemade cookies.
16 FAVORITES: HOT DOGS
It's time to get frank, this medley of creative condiments gives your dogs something to relish.
20 GAME HEN MENUS
They may be small, but game hens sure are mighty. And these two meals prove it, big time.
24 GREAT GREENS
Make the most of fresh produce with two healthy menus that are as flavorful as they are colorful.
28 PLANK COOKING
Transform your barbecue repetoire into smoky nirvana with just your grill and a cedar plank or two.
32 PICNIC SIDE DISHES
With this array of summer side dish recipes, you'll never stress about what to bring to your next potluck.
36 1 INGREDIENT 4 WAYS: EGGPLANT
After trying these four fantastic eggplant recipes, this big berry is sure to become a new summertime staple.
46 SUMMER DRINKS
Stay cool all season long with these four juiced up, intoxicating summer beverages. Cheers!
48 CHERRY-ALMOND PIE WITH LATTICE TOP
You're sure to take home the grand prize when you bake up this all-American tart cherry pie.
51 GREAT GRILLING MENUS
Follow the step-by-step photos for sizzling summer dinners grilled to perfection every time.
Feature
40 FROZEN YOGURT
Move over ice cream. With its smooth texture and slightly tangy taste, frozen yogurt is your new rival.
42 PIZZA ON THE GRILL
With its thin crust, smoky flavor, and fab toppings, a grilled pizza party is sure to be deliciously fun.