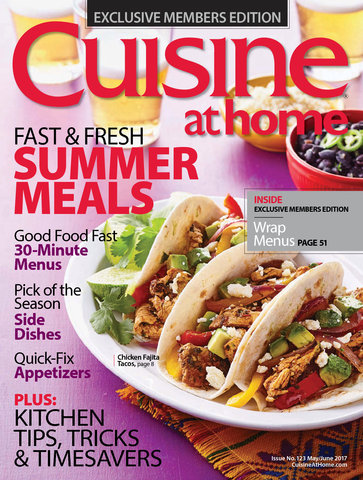 Subscribe Today!
Preview This Issue
Issue 123


June 2017
Table of Contents
Departments
4 FROM OUR READERS
6 Q&A
8 TACO NIGHT
When Mexican food is on the menu for dinner, you can expect to be eating a fiesta of flavors.
14 DIGGIN' CLAMS
Nothing says summer by the seashore like fresh, steamed clams — perfect for al fresco dining.
16 GOOEY BUTTER CAKE BARS
You'll no longer have to travel to St. Louis to enjoy this ultra-sweet, gooey-filled cake.
18 SASSY SALADS
Make salad a full-meal with these two flavorful recipes that celebrate the season's bounty with style.
22 QUICK FISH
Whether you grill it or broil it, either way, these fish menus are positively good for you.
30 QUICHE FEAST
Contrary to popular belief, quiche really can be a man's meal. These three makeovers prove just that.
34 SWEET ONIONS
Simmered, baked, fried, or grilled, sweet onions are on the menu and they're bloomin' delicious!
38 CUTTING ONIONS
Brush up on, or learn some new knife skills, and you'll be cutting onions like a pro in no time.
44 TAPAS TIME
Gather your friends and family for a pinchos party — these bites are small, yet big on flavor.
48 MORNING GLORY CARROT CAKE
A carrot cake with all the fixin's is bound to be good, and this retro dessert gets a glorious upgrade.
51 IT'S A WRAP
Follow the step-by-step photos for fast and fresh complete meals guaranteed to please.
Feature
26 ITALIAN POTLUCK
You'll be the toast of the town when you host this simple, yet sensational, Italian spread.
40 STUFFED & GRILLED PORK MENU
This Father's Day, give dad what he really wants — a dinner he won't soon forget.