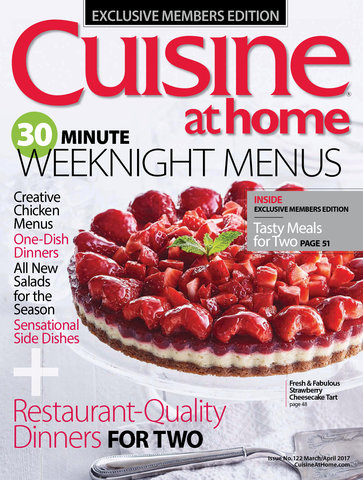 Subscribe Today!
Preview This Issue
Issue 122


April 2017
Table of Contents
Departments
4 FROM OUR READERS
6 Q&A
8 N'AWLINS TONIGHT
Any of these three menus make it mighty easy to travel down to the bayou for Big Easy meals.
14 COCONUT-BANANA BREAD PUDDING WITH COCONUT-CARAMEL SAUCE
With coconut, bananas, and a little rum, this island-inspired bread pudding tastes like the tropics.
16 QUICK CHICKEN
You'll certainly be chanting "winner, winner" when these chicken dinners come to the table.
22 VEGETARIAN MENUS
Looking to go meatless once a week, or altogether? You won't miss it with these flavorful creations.
34 SALMON
Full of fantastic flavor, these salmon recipes give you new ways to highlight this king of the sea.
38 SCRAMBLED EGGS
Ever wonder how to cook perfect scrambled eggs? The secrets are revealed with this step-by-step tutorial.
44 MEALS IN MINUTES
Less is definitely more with these bold-flavored meals that come together in 30 minutes or less.
48 STRAWBERRY CHEESECAKE TART WITH PECAN-GRAHAM CRACKER CRUST
This layered dessert combines two treats into one — luscious, creamy cheesecake and fresh strawberry tart.
51 MENUS FOR TWO
When it's just two for dinner, and you want to put fresh ingredients front and center, look no further.
Feature
26 CREAMY CASSEROLES
Bubbly, warm, and filling, these cheesy one-dish dinners are comfort food at its best.
30 EASTER DINNER
Easy elegance sums up this delicious holiday menu. You'll be celebrating right along with your guests.
40 POT-ROASTED CHICKEN WITH DILL PAN SAUCE
One method for cooking chicken yields two dinner options, and both are memories in the making.