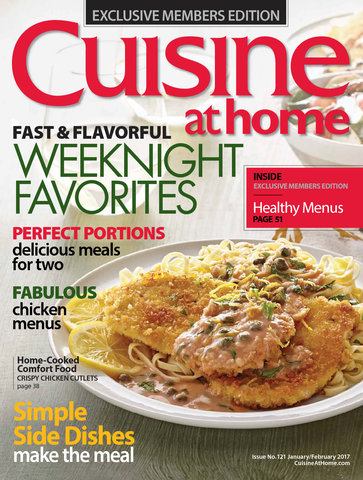 Subscribe Today!
Preview This Issue
Issue 121


February 2017
Table of Contents
Departments
4 FROM OUR READERS
6 Q&A
8 SOUPS & SANDWICHES
Keep the chill at bay with these soul-warming soup and sandwich combos that everyone will enjoy.
14 ÉCLAIRS & CREAM PUFFS
Discover your inner pastry chef and wow friends and family with these homemade French delights.
18 CURRY IN A HURRY
Spice up dinner with these quick-to-fi x curries that are sure to keep you coming back for more.
22 POWER BOWLS
Fuel up with these all-in-one meals packed with protein, whole grains, fruits, and vegetables.
34 ITALIAN SAUSAGE
Italian sausage isn't just a pizza topper. Put this ingredient to good use in a variety of recipes.
38 CRUSTING CUTLETS
Perfect the art of making crisp and juicy cutlets, then turn them into two delicious dinners.
44 WINTER VEGETABLES
Take advantage of what winter has to offer with side dishes spotlighting the season's best produce.
48 CHOCOLATE TRES LECHES CAKE
Chocolate has never looked, or tasted, as good as in this amazing, moist, melt-in-your-mouth cake.
51 LITE MENUS
Stick to your New Year's resolution with these flavorful and satisfying, good-for-you menus.
Feature
26 MAC 'N CHEESE
Put the blue box down because these three recipes redefine the classic comfort food once and for all.
30 SLOW COOKER CARNITAS
Feed a crowd with this smoky pulled pork taco menu that hits all of the right notes.