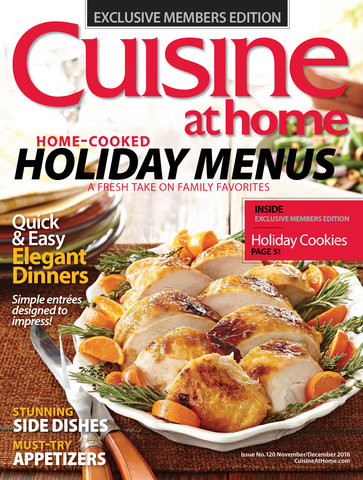 Subscribe Today!
Preview This Issue
Issue 120


December 2016
Table of Contents
Departments
4 FROM OUR READERS
6 Q&A
8 DELICIOUS DINNERS
It may be a busy time of year, but you still have to make dinner. These menus keep it simple.
12 CREAM OF MUSSEL SOUP (BILLI BI)
You've had mussels before, but probably not in an outrageously delicious soup like this one.
14 HOLIDAY SWEETS
Gift-give your heart out this holiday season with batches of these two favorite candies.
18 QUICK-TO-FIX STIR-FRIES
Break out the chopsticks — stir-fries are just the ticket for flavor-packed meals.
36 CANNED PUMPKIN
Put your can opener to good use with four fun recipes featuring fall's favorite ingredient.
40 CINNAMON-COCOA BABKA
Warm your house and your soul with three loaves of sweet cinnamon and cocoa-swirled bread.
48 CLASSIC PECAN PIE
Create an unforgettable pie and amp up the taste of this classic dessert with some unexpected twists.
51 FESTIVE COOKIES
You'll be the star of the exchange this year when you bake any one of these cookie recipes.
Feature
22 THANKSGIVING COMFORT
Reinvent your Thanksgiving dinner this year with traditional recipes made new again.
28 ITALIAN FEAST
Treat family and friends to a hearty, stick-to-your-ribs kind of supper that will truly be memorable.
32 HOST A PARTY
With this collection of appetizers and party fare, your fête is sure to be the best yet!
42 A HOLIDAY CELEBRATION
Starring Italian Beef Wellingtons, this feast is reason enough to celebrate this special season.
46 HOLIDAY BRUNCH
Coming up with recipes for brunch that feed a crowd can be a tough assignment. Not anymore!