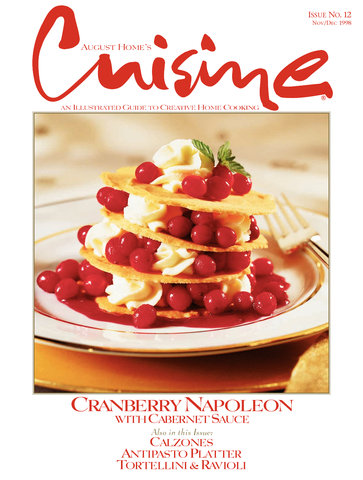 Subscribe Today!
Preview This Issue
Issue 12


December 1998
Table of Contents
Departments
4 TIPS AND TECHNIQUES
16 10 GIFT IDEAS FOR COOKS
18 TUSCAN BEAN SOUP
A classic Italian soup. Just add salad and you've got a complete dinner.
27 WHAT'S HAPPENING IN FOOD
36 QUESTIONS & ANSWERS
44 DRESSING UP THE RICOTTA TORTA
Feature
6 ANTIPASTO PLATTER
This is great for parties. While it looks like a lot of work, you can make it with no problem.
10 TORTELLINI & RAVIOLI
Fun to make and even better to eat. The perfect meal after the giant holiday feasts.
22 BALSAMIC VINEGAR
A vinegar that you sip or put on your dessert? True Balsamics are just that good.
24 MAKING RICOTTA CHEESE
After looking in the grocery stores for good ricotta cheese, I found the best at home.
28 PLACE SETTING
A non-hoity guide to setting the proper table. It's probably something we could all brush up on.
30 3 TURKEY DISHES
Rather than using expensive, hard-to-find veal, try cooking with turkey tenderloins.
38 CRANBERRY NAPOLEON
This dessert is quick, easy, and spectacular looking. Ideal for the holidays.
39 CALZONES
With a little practice, you can make perfect calzones at home.
42 RICOTTA TORTA
Trust me, this ricotta torta is light enough to eat after a big holiday meal.