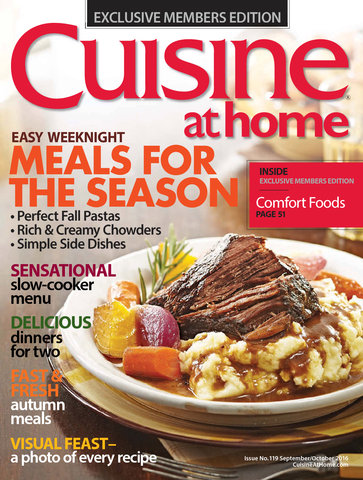 Subscribe Today!
Preview This Issue
Issue 119


October 2016
Table of Contents
Departments
4 FROM OUR READERS
6 Q&A
8 FALL PASTAS
Ready in an hour or less, you'll fall for these pasta menus, where Italian flavors shine.
14 BEER-CHEESE FONDUE
Choose your favorite Belgian beer and put it to good use in an ooey-gooey cheese fondue.
16 CRUNCHY FRENCH TOAST
Turn a brunch classic into something truly spectacular with just a box of cereal.
18 FAST FALL FARE
It's always hard to say goodbye to summer grilling, but these quick, hearty menus make it much easier.
24 PORK TENDERLOIN
Showcase trim and tasty pork tenderloin in an upscale dish and a Moroccan-spiced stew.
36 1 INGREDIENT 4 WAYS: APPLES
An apple a day keeps the doctor away is reason enough to love apples, but here are four more.
40 CHEWY PRETZELS
Skip the mall pretzels and have fun kneading, rolling, and twisting your way to chewy excellence.
46 SIDE DISHES
Fresh and crunchy, warm and cheesy, you might just want to make these side dishes your main meal.
48 APPLESAUCE BUNDT CAKE WITH APPLE CIDER GLAZE
This uber-tender and delicately sweet apple cake is sure to be a boon to your baking repertoire.
51 SOUPS, STEWS & CHILI MENUS
Get inspired to make a big batch of goodness with these warm and hearty one-pot recipes.
Feature
28 COMFORT AT ITS BEST
From a succulent pot roast to the best hot beef sandwich ever, fall food has never tasted so good.
32 CAJUN CREATION
Go Cajun this season and feed a hungry crowd with this hands-off sloppy Joe menu.
42 CHOWDERS
Ladle up any one of these three chowders for the warmest and coziest meals you'll have this autumn.