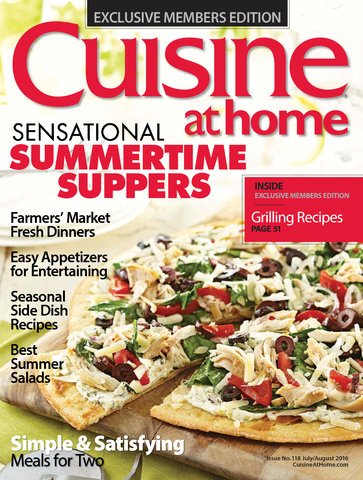 Subscribe Today!
Preview This Issue
Issue 118


August 2016
Table of Contents
Departments
4 FROM OUR READERS
6 Q&A
8 ROTISSERIE CHICKEN
Convenient and creative, these three menus featuring chicken offer something for everyone.
14 WATERMELON
Eat your watermelon, and drink it too, with unique recipes that use every last bit of this amazing fruit.
16 COFFEE SEMIFREDDO
An Italian favorite, this devilishly delicious dessert is the definition of frozen perfection.
18 MEXICAN
Enjoy the flavors of Mexican fare all day long with menus for breakfast, lunch, and dinner.
24 SALMON
These two healthy menus highlighting the king of the sea will leave you satisfied and feeling good!
36 TOMATOES
Put your bushel of tomatoes to good use with this array of recipes showcasing the season's best.
40 PRESERVING TOMATOES
Two simple techniques will let you enjoy the flavors of garden-fresh tomatoes all year-round.
46 GRILLED APPETIZERS
Whether for a party, or a light meal, these charred summer bites are sure to make a big statement.
48 ROOT BEER FLOAT CAKE WITH VANILLA ICE CREAM FROSTING
This three-tiered showstopper of a cake gives the soda fountain favorite a run for it's money.
51 GREAT GRILLING MENUS
Follow the step-by-step photos for sizzling summer dinners grilled to perfection every time.
Feature
28 FRESH SALAD DRESSINGS
Freshen up your salads with these fruit-focused vinaigrettes — perfect for any summer salad.
32 SENSATIONAL SIDES
Potlucks, picnics, or just for the family, these recipes are all you'll need for this year's reunions.
42 FABULOUS FLANK
This Hungarian-style steak menu, packed with summer produce, is one for the record books.