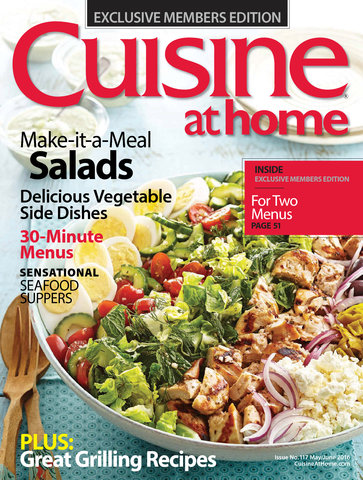 Subscribe Today!
Preview This Issue
Issue 117


June 2016
Table of Contents
Departments
4 FROM OUR READERS
6 Q&A
8 GREAT GRILLING
These menus give you three fabulous reasons to fire up the grill, and they're all weeknight friendly.
14 RASPBERRY TRIFLES WITH LEMON CREAM
Layered between fresh lemon cream and sweet pound cake, these little berries are front and center.
16 TRIPLE CHOCOLATE BROWNIES
With pure, full-bodied chocolate flavor, and chewy texture, these are easily the best fudgy brownies, ever.
18 SEAFOOD
Reel in your mate with these delicious, light-tasting seafood dinners perfectly portioned for two.
24 HEALTHY & TASTY
Forget the trendy diet. These recipes combine fresh, nutritious ingredients in tasty, satisfying ways.
36 POTATOES
It's easy to see why potatoes are America's favorite vegetable with these fantastic takes on the tuber.
40 GRILLING STEAKS
If you love a grilled steak, these tips are guaranteed to make you a steak master.
46 VEGETABLE SIDES
Bring the flavors of the season straight to your plate with any one of these four vegetable side dishes.
48 PIÑA COLADA PIE
Like a pie cocktail, this sweet and creamy dessert takes your taste buds on a tropical vacation.
51 RESTAURANT-STYLE MENUS FOR TWO
Follow the step-by-step photos for simply delicious recipes streamlined just for two.
Feature
28 SALAD & SOUP MENUS
Give these updated versions of cobb salad a try, and serve them alongside cool, refreshing soups.
32 DYNAMITE SUNDAY DINNER
Be the hostess with the mostess with a simple Italian menu that's sure to impress your diners.
42 HAWAIIAN PICNIC
Pulled pork and all the fixings get an island makeover for a true flavor getaway. All aboard!