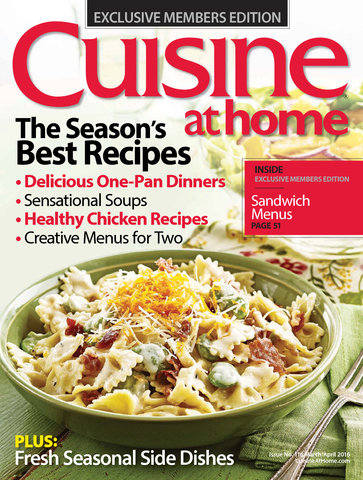 Subscribe Today!
Preview This Issue
Issue 116


April 2016
Table of Contents
Departments
4 FROM OUR READERS
6 Q&A
8 SPRING MENUS
Hip hip hooray for these three meals especially suited for the upcoming season.
14 PINEAPPLE-LEMON MARMALADE WITH FRESH GINGER
Whip up a big pot of Pineapple-Lemon Marmalade and bring the warm-weather inside.
14 CINNAMON-SOUR CREAM SCONES WITH CANDIED GINGER
Flaky, tender, and just plain good, these scones are certain to become your new favorite anytime treat.
18 SPRINGTIME PASTA
With a box of pasta and some fresh ingredients on hand, dinner is just minutes away.
24 CHICKEN BREASTS
From Mexican to Italian, give your diet-fare a facelift with these two flavor-packed chicken menus.
36 EGGS
Incredible and edible are just a couple of ways to describe these four tasty dishes showcasing eggs.
40 ONION RINGS WITH SRIRACHA-HONEY MAYO
For perfectly crisp and delicious onion rings every time, this is the recipe to turn to.
46 SPLENDID SOUPS
With these quick-to-fix soups, you'll be ladling up warm and hearty flavor in no time.
47 BUTTERMILK CUPCAKES WITH STRAWBERRY WHIPPED CREAM
51 SANDWICHES
Make the most of everyday ingredients with this collection of simply scrumptious sandwich recipes.
Feature
28 ONE-SKILLET MEALS
Pump up on flavor and pare down on prep with these one-skillet, full-meal recipes.
32 SPRING HOLIDAY PORK DINNER
Get rave reviews from family and friends with a pork roast menu that explodes with flavor.
42 BAKING SHEET PIZZA
With one simple dough and three topping options, you'll be set no matter who joins the dinner table.