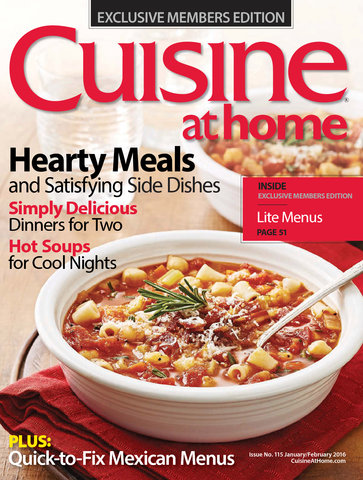 Subscribe Today!
Preview This Issue
Issue 115


February 2016
Table of Contents
Departments
4 FROM OUR READERS
6 Q&A
8 MEXICAN MEALS
With bold, Latin flavors, you'll feel like you've been transported south of the border in an hour or less.
14 CREAMY BROCCOLI SOUP WITH BACON & BLUE CHEESE
Your family will give three cheers for broccoli when you turn it into a creamy, stick-to-your-ribs soup.
16 RICOTTA PANCAKES
Once you've tasted these heavenly hotcakes, you'll declare every day should be pancake day.
20 COMFORTING CASSEROLES
You'll want to cozy up to the table with your better half when stew or pot pie are on the menu.
24 FABULOUS FISH
With these two flavorful fish menus, you'll easily be able to keep your "get healthy" resolutions going.
36 CHICKPEAS
Hearty, healthy, and oh-so satisfying, chickpeas can be prepared in so many tasty and creative ways.
40 HOMEMADE RICOTTA CHEESE
Making ricotta at home is easier than you think. Once you taste it, you won't want it any other way.
46 STELLAR STIR-FRIES
Forget takeout tonight. Grab a wok — these flavor-packed stir-fry recipes come together in a flash.
48 RICOTTA TART WITH HAZELNUT-OATMEAL CRUST
You've never had cheesecake like this before! Homemade ricotta gives it an ultra-creamy texture.
51 LITE & LIVELY MENUS
Good for you (and your waistline), these seven sensational menus set you on a healthy path.
Feature
28 FRIED CHICKEN DINNER
If ever there was a time to declare winner, winner chicken dinner (with all the fixin's), this menu is it!
32 NACHOS
Treat friends to cheesy nachos with unexpected toppings inspired by breakfast and lunch favorites.
42 REINTRODUCING RICOTTA
Let homemade ricotta shine in the most luscious stuffed-shells and divine cannoli you've ever eaten.