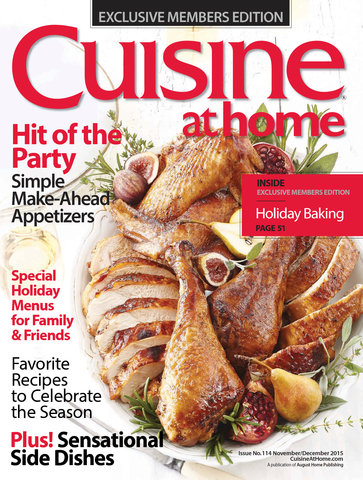 Subscribe Today!
Preview This Issue
Issue 114


December 2015
Table of Contents
Departments
4 FROM OUR READERS
6 Q&A
8 WEEKNIGHT ELEGANCE
Just because it's a weeknight doesn't mean you have to forsake a fabulous gourmet meal at home.
14 PECAN STREUSEL PUMPKIN CAKE
Morning, noon, or night, this pumpkin streusel cake will add the sweetest note to your holiday season.
16 QUICK BREADS
Warm, sweet, freshly baked bread is better than ever with these three comforting quick loaves.
20 FILET MIGNON
Skip the hefty price tab but still enjoy a restaurant-quality meal just right for the two of you.
32 SLOW COOKER MENUS
Let the sun shine in when you serve either of these two bold Cuban-inspired entrées and sides.
36 SPINACH
Always available and inexpensive, spinach is one of the most versatile vegetables there is.
46 APPETIZERS
These fast, fun, and fabulous small bites are simple to prepare so you can join the party, too!
48 SACHER TORTE
The holidays are here. Pull out all the stops with this stylish, densely rich Viennese specialty.
51 HOLIDAY SWEETS
With cakes, tortes, and breakfast goodies, there's a sweet sensation just perfect for your holiday table.
Feature
24 TURKEY LEFTOVERS
Amp up your leftover turkey repertoire with one of these four mouth-watering recipes.
28 CHRISTMAS EVE DINNER
Enjoy a festive feast, without all the clatter, before the big day with this mostly make-ahead menu.
40 THANKSGIVING DINNER
You're certain to be thankful for this array of fast and flavorful recipes — get ready to feast.