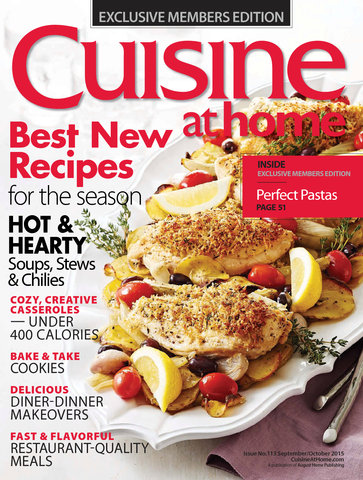 Subscribe Today!
Preview This Issue
Issue 113


October 2015
Table of Contents
Departments
4 FROM OUR READERS
6 Q&A
8 DINER DINNERS
Choose one of these diner menu favorites, each with a unique new twist, for something special tonight.
14 APPLE PUFF PANCAKE WITH APPLE CIDER-CARAMEL SAUCE
Crisp, tart, and juicy, all-purpose Granny Smiths get full fanfare in this puffed, apple pancake.
16 FRENCH FALL SOUPS
The French are renowned for their soupmaking abilities. These are just a sampling.
20 CAJUN & CREOLE CUISINE
Straight from the Louisiana bayou, these two menus range from casual to higher end … but both rock!
24 CASSEROLE MAKEOVERS
Warm, rich, hearty, and oh-so comforting, there's nothing heavy about these light casseroles.
36 SCALLOPS
Fire up your taste buds and ignite your senses with these four diverse and delicious scallop dishes.
46 CHILIES
Killer chili doesn't have to take hours. Try one of these steamy, quick-to-fix recipes for dinner tonight.
46 RIB-EYE STEAK CHILI
47 GREEN CHILI WITH GROUND PORK
48 OATMEAL PIE WITH SEMISWEET GANACHE
If sweet, gooey, and buttery all sound good to you, you'll love this spin on pecan pie.
51 PERFECT PASTAS
Get a taste of Italy in your own home with these delicious pasta menus perfect for weeknight dinners.
Feature
28 BISTRO FARE
Bring the bistro home with this French-inspired casual, comfort-food meal full of café favorites.
32 COOKIE EXCHANGE
With any one of these three creative cookies, you'll swap 'til you drop at your next cookie exchange.
40 CHICKEN IN PHYLLO PACKETS WITH MUSHROOM FILLING
Winner, winner, this is the best chicken dinner you'll lay a fork into for quite awhile.
42 BAKING SHEET DINNERS
Not just for baking cookies, the baking sheet can't be beat for its roasting ability.