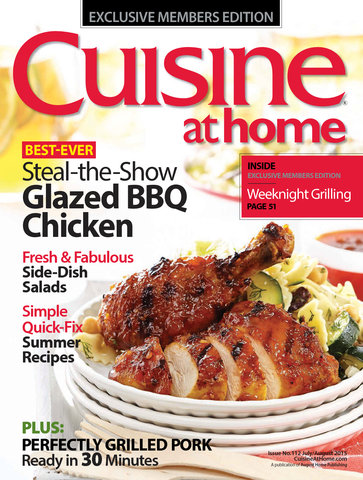 Subscribe Today!
Preview This Issue
Issue 112


August 2015
Table of Contents
Departments
4 FROM OUR READERS
6 Q&A
8 CLASSICS MADE OVER
Familiar chicken dishes are revamped for the grill in these quick-to-fix makeovers.
14 TOMATO & BASIL TART WITH GOAT CHEESE
Woven into a fresh, flavorful, and simple tart, the dynamic duo of tomatoes and basil reigns supreme.
16 MEXICAN TORTAS
Hop on the bandwagon, or food truck, and see why everybody's talking about tortas.
20 LUSCIOUS LOBSTER
With flavorful grilled lobster tails and a refreshing lobster salad, make a date for dinner, dockside.
24 GET STUFFED
From potatoes to bell peppers, these two entrées will leave you stuffed, in a healthy, oh-so-satisfying way.
36 PORK TENDERLOIN
Sharpen your knife and get trimming — these pork tenderloin recipes are the best ever.
46 ICE CREAM SAUCES
You won't find any of these sweet and creamy liqueur-laced sauces on any grocery store shelves.
48 CHERRY PANDOWDY
With two types of cherries and a sugar-dusted crust, there's nothing dowdy about this dessert.
51 HOT OFF THE GRILL
Throw these weeknight-quick recipes on the grill, then sit back and bask in the warmth of the season.
Feature
28 CALIFORNIA GRILLING
Holy cow! This tri-tip roast menu needs to be on your grilling radar this season.
32 SUMMER SMALL PLATES
Feed a crowd with these Spanish and Italian apps. They may be small, but they've got mighty flavor.
40 CINNAMON-WHISKEY GLAZED CHICKEN
This Cinnamon-Whiskey Glazed Chicken is the best of the barbie and a surefire summer hit.
42 SUMMER SIDE SALADS
These four fresher-than-ever variations on some picnic-table classics prove it's easy to be green.