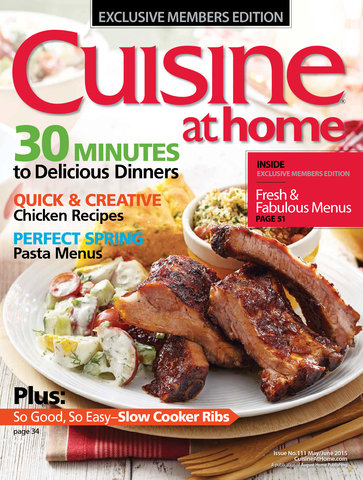 Subscribe Today!
Preview This Issue
Issue 111


June 2015
Table of Contents
Departments
4 FROM OUR READERS
6 Q&A
8 PERFECT PASTAS
Go ahead and plan a spring fling with these simple pasta dishes loaded with the season's best flavors.
14 ENGLISH PEAS
Mom always said "eat your peas," and it'll be so much easier once you taste this soup and pesto.
16 FRESH FRUIT DESSERT BARS
Being square is anything but boring in these two desserts that are sure to entice your sweet tooth.
20 BRING ON THE BRINES
Looking to add flavor and moisture to lean meats like chicken and pork? You can pickle that!
24 HEALTHY PIZZA
Just because you're watching what you eat doesn't mean pizza can't be on the menu.
28 COLD-PROOFED PIZZA DOUGH
Homemade pizza is all about the crust. A deliciously easy food-processor dough … that's amoré.
38 FLANK STEAK
No one will wonder where the beef is once they dig into these fabulous flank steak recipes.
46 ROTISSERIE CHICKEN
From salads to cheesy dip to a Mexican meal, these ideas for using a weeknight staple are all but basic.
48 TRIPLE BERRY & CASSIS SORBET
There's no need to swelter. This taste-tempting sorbet, bursting with berry flavor, will soon cool you off.
51 FRESH & FABULOUS RECIPES
Take advantage of the best the season has to offer with these fresh meals, sides, and dessert.
Feature
30 NO-FAIL FOIL DINNERS
With minimum preparation time, some heavy-duty foil, and a hot grill, dinner is just minutes away.
34 BARBECUE SEASON
Yes, they're sticky, but oh-so good. Make these ribs and the side dishes part of summer's ultimate feast.
42 GETTING CREATIVE WITH CARROTS
Deliciously diverse, these two culinary creations will have you chopping away at these edible orange roots.