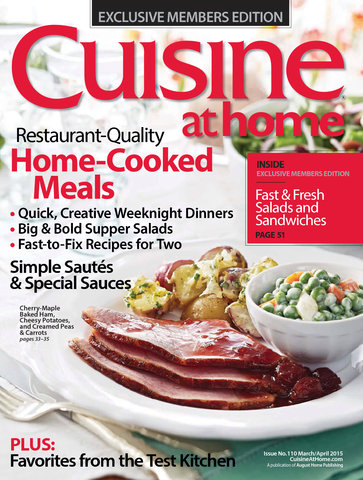 Subscribe Today!
Preview This Issue
Issue 110


April 2015
Table of Contents
Departments
4 FROM OUR READERS
6 QUESTIONS & ANSWERS
8 BREAKFAST FOR DINNER
No time for a creative and delicious breakfast in the morning? No problem — have it for dinner instead!
14 MAPLE-WALNUT BARS WITH SHORTBREAD CRUST
The sap is running. It's time to showcase the sweetening power and delectable flavor of maple.
16 BREADS FOR THE SEASON
Looking for some luck of the Irish, or one-a-penny buns? Bake up these seasonal breads...anytime.
20 SHRIMP
Make tasty dinners for two with easy-to-prepare, quick-cooking, and readily available shrimp.
24 MEDITERRANEAN MENUS
Let Mediterranean flavors guide you to nutritious meals using healthy ingredients.
38 HAM
Make the most of any ham leftovers with these four culinary creations, proving ham is heavenly.
42 CRÊPES
As easy to make as flapjacks, crêpes go way beyond breakfast fare with these sweet and savory renditions.
46 QUICK SAUTÉS & SAUCES
A sensational sauce can take an otherwise ho-hum piece of meat or fish and elevate it to gourmet fare.
48 COCONUT-ALMOND CHIFFON CAKE WITH RASPBERRY JAM & COCONUT WHIPPED CREAM
Light and fluffy, this gorgeous coconut and raspberry cake is sure to make your spring much brighter.
51 SALADS & SANDWICHES
Feel fresh this spring with fabulous, quick-to-fix sandwiches and salads ideal for lunch or dinner.
Feature
28 BIG SALADS
Highly appetizing, these main-dish salads are where it's at when you're craving something fresh.
32 HEAVENLY HAM DINNER
This impressive dinner is perfect for celebrating Easter or a Sunday meal with the family.
36 RHUBARB-RASPBERRY BROWN BETTY
Rhubarb and raspberry come to life in an ambrosial dessert that's perfect for ushering in spring.