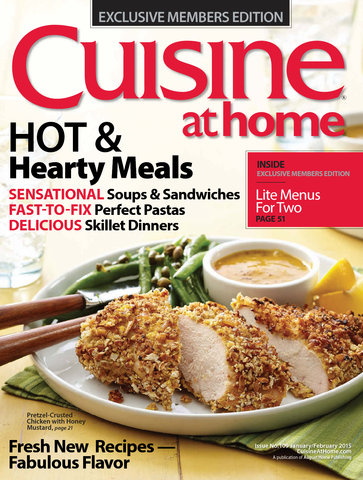 Subscribe Today!
Preview This Issue
Issue 109


February 2015
Table of Contents
Departments
4 FROM OUR READERS
6 Q&A
8 SOUPS & SANDWICHES
Looking for soups and sandwiches that really hit the spot? Look no further than these three combos.
14 BANANA & COCONUT FRITTERS WITH STRAWBERRY MAPLE SYRUP
Transform this favorite fruit into sweet and crispy fritters. You'll go ape for the tropical-inspired nuggets.
16 OATMEAL
Breathe new life into oats with four breakfast recipes that will give your family something to wake up to.
20 CRUSTING FOR FLAVOR
Chicken breast and pork tenderloin just need a facelift to become phenomenally flavorful.
36 CANNED TUNA
There are so many possibilities when it comes to a can of tuna. Try one these creative recipes tonight!
44 PASTA PRONTO
With a handful of ingredients and a few strands of pasta, you'll have dinner on the table in no time.
46 FLAKY PIE CRUST DOUGH
Pie crusts don't have to be intimidating. Simple instructions will make you a pie expert in no time.
48 CHOCOLATE FRENCH SILK PIE
Literally as smooth as silk, you'll never buy a store-bought pie again after one bite of this dreamy pie.
51 LITE MENUS
Feature
24 GLUTEN-FREE MENUS
Whether you want an elegant risotto or a family-approved meatloaf, you can have both gluten-free.
28 SAVORY PIES
From a take on a pub favorite to an Italian-inspired cobbler, you've never seen pies like these before.
32 COOKING FOR A CROWD
Having over good friends means you'll need great food — this simple menu won't disappoint.
40 STROMBOLI
You could say it's pizza with a twist. Try your hand at one of these über-delicious rolled loaves tonight.