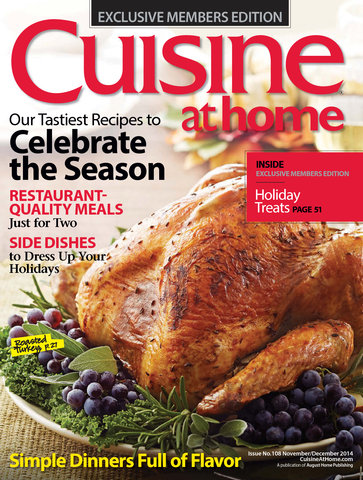 Subscribe Today!
Preview This Issue
Issue 108


December 2014
Table of Contents
Departments
4 FROM OUR READERS
6 Q&A
8 SEAFOOD PASTA
Sweep everyone away to a coastal getaway at dinner tonight with one of these seafood pasta dishes.
12 GINGERBREAD BUNDT CAKE
Lure everyone in smelling distance right to your table with just a whiff of this uber-delicious cake.
14 GIFTS FROM THE KITCHEN
Make friends and family feel like they've made the nice list this year with a delectable food gift.
18 ELEGANT MENUS
Five-star fancy, these meals just for the two of you will make for a welcome, relaxing night in.
32 SWEET POTATO
Get creative with winter's favorite tuber — these recipes are proof that this spud's for you.
40 HOLLANDAISE SAUCE
Hollandaise sauce is in a class all by itself. Learn how to make it and sister sauce, béarnaise.
42 STUFFED FILET MIGNON OSCAR WITH CRABMEAT FILLING
And the Oscar goes to ... everyone at your holiday table when you serve these regal crab-stuffed steaks.
46 LEFTOVERS
Think beyond leftover turkey sandwiches when you use up all the holiday leftovers in original recipes.
48 CHOCOLATE-PEPPERMINT CAKE
If peppermint has a season, this is it. Pair this classic with chocolate for one impressive dessert.
51 HOLIDAY TREATS
Visions of sweet, festive bites will be dancing in your head all season long with these tasty treats.
Feature
22 HOLIDAY APPETIZERS
Quick and easy prep means you'll be spending more time with kindred spirits and not in the kitchen.
26 TIME FOR TURKEY
Dress your table with a hearty Thanksgiving dinner filled with subtle German flavors.
36 BREAKFAST CASSEROLES
These two super-tasty bread puddings are just what you need to survive making holiday breakfasts.