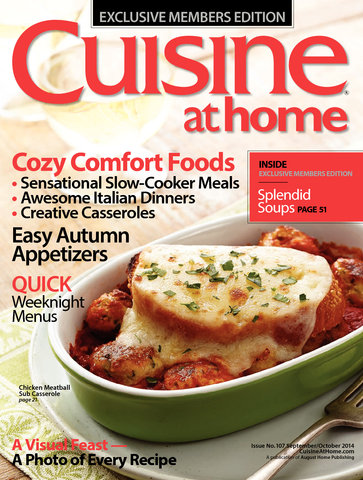 Subscribe Today!
Preview This Issue
Issue 107


October 2014
Table of Contents
Departments
4 FROM OUR READERS
6 Q&A
8 FAST FALL MENUS
It's always hard to say goodbye to summer, but these three hearty menus make it much easier.
14 BUTTERNUT SQUASH FETTUCCINE WITH FRIZZLED PROSCIUTTO
You'll fall for this pasta dish, where, like its name implies, butternut squash adds buttery, nutty flavor.
16 SLOW-COOKER SATISFIERS
Slow cook your way to fantastically flavorful no-fuss, no-muss meals: Mexican pork or Italian beef.
20 COMFORTING CASSEROLES
Change up classics — the sub sandwich and mac 'n cheese — then cozy up to the table with a fork.
24 HEALTHY CHINESE TAKEOUT
Skip the takeout — stir-fry two Chinese-restaurant favorites at home for fewer calories and less sodium.
38 TILAPIA
With its versatility, affordability, and health benefits, it's time to take a look at what tilapia has to offer.
42 PUDDING
When did you last treat yourself to pudding? When you see these recipes, the answer will be tonight.
46 DIPS
Hot and cheesy, these dips based on recipe classics are sure to draw a party crowd.
48 POACHED PEAR TARTE TATIN
A classic French dessert gets a makeover with wine-poached pears and a rich, buttery crust.
51 SPLENDID SOUPS
Combat the shorter days and cooler temperatures with soups guaranteed to warm your body and soul.
Feature
28 PULL-APART BREADS
Monkey bread may have been the original, but three new pull-aparts may give it a run for its money.
32 FALL PARTY
Do a little adult trick-or-treating at the dinner table with a few frightfully sophisticated soups and sides.